The content is accurate at the time of publication and is subject to change.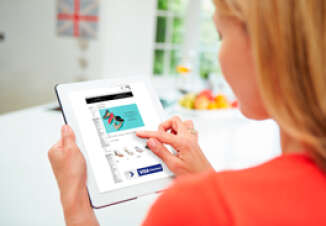 Visa Checkout has gained traction with merchants since its rollout last year. They recently signed on new retailers including Fandango, Sundance Catalog  Williams-Sonoma, Dunkin' Donuts in the U.S, as well as additional retailers in Canada and Australia. Additional retailers already on board include the Gap, Old Navy, Virgin America and Orbitz.
Visa Checkout was designed to streamline the online shopping experience, by letting consumers share their password, credit cards and shipping information with merchants without having to enter them in manually, whether they are buying a doughnut or an airline ticket.
"With screens and keyboards getting smaller and smaller, checking out online must be incredibly simple and easy," said Sam Shrauger, Visa's senior vice president of digital solutions. "Visa Checkout offers just that – a fast, easy way to check out in just a few clicks without filling out endless form fields. The early response from consumers and merchants for Visa Checkout has exceeded our expectations and increased our commitment to seeing its acceptance and usage continue to grow on a global scale."
Visa Checkout gets a thumbs up from comScore Report
ComScore, a technology company, issued a report, which found that people using Visa Checkout are 66% more likely to finish making a mobile or online purchase using it than consumers manually entering their credit card information.
They also found that people using the interface to pay for travel or merchandise, typically spent 7% on more than those who used a different option to pay.
The fact that it's easier to finish a purchase using Visa Checkout is one of the key reasons why there are fewer abandoned carts and a higher spend rate. "One of the biggest issues for online merchants is the cumbersome process of card data input that leads to consumer cart abandonment. Addressing this pain point for both merchants and consumers is crucial," said Nick Holland, retail payments practice lead, Javelin Strategy & Research.
In another report issued by Millward Brown. 95% of people using Visa Checkout found it easy to use and 96% felt safe using it.
Getting even more Merchants on-board
To keep the momentum going by creating merchant partnerships Visa will be launching several new initiatives with retailers during the summer, using a wide range of social media and promotional streams, including partnering up with Pinterest to launch "Cinematic Pin," a new advertising platform; teaming up with the NFL; and working with new partners  like Dunkin' Donuts and Williams-Sonoma to create large-scale marketing campaigns.