The content is accurate at the time of publication and is subject to change.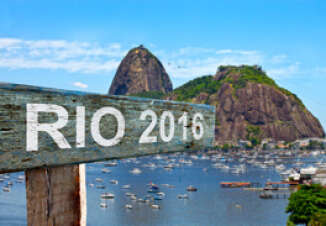 If you are planning to go to the Olympics in Rio, then you might be happy to know that you will be able to use your Visa card in real time and digitally while you're there. Visa is the exclusive payment provide of the Olympic Games, and as such will be decking out the Olympic Village and other venues with the latest tech, including stadiums, press centers, point-of-sale (POS) terminals and Olympic Superstores.
Visa is clearly excited about going to the Olympics and making payments easier for visitors. "Visa has always stood for universal acceptance and the most secure and fast way to pay across merchants, borders and currencies," said Jim McCarthy, executive vice president of innovation and strategic partnerships at Visa. "As we prepare for the Rio 2016 Olympic Games, Visa is transforming the way fans pay, giving them choice in how they want to pay for anything, anytime and everywhere."
And as part of this process they will be installing 4,000 POS terminals across all key venues, along with 11 ATMs, which will be placed due to a partnership with Bradesco.
Paying with wearable's and mobile devices Rio style
While credit and debt card payments will be easy to make at the Olympics, whether you're buying some souvenirs or taking a minute to relax, they also have their sights set on broadening consumers reach when it comes to payments.
How? They will be focusing on new technologies specifically ones that make it possible for consumers to use their wearable tech and mobile phones to pay for their purchases, whether that means tapping, dipping, swiping or clicking.
Olympic data
When it comes to how many people will be heading to the Olympic games, Visa isn't pulling any punches projecting that 400,000-500,000 international visitors will be in Rio in August for the festivities. Their data also suggests that overall travel to Brazil will increase by an estimated 1.2 million travelers.
Where will these Olympic travelers be coming from? According to Visa, 45% will be arriving from Latin America and the Caribbean region, while 30% will fly in from Europe. Just 15% will be coming from North America.
When the numbers are crunched, they also expect that travelers will be spending more while in Rio based on past games. For instance, during the London games people spent an average of $1,830 each, which was double the amount spent by average travelers the rest of the year.