The content is accurate at the time of publication and is subject to change.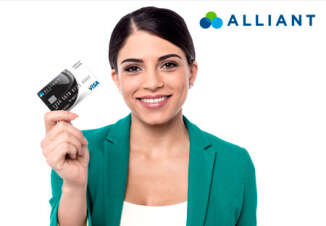 Alliant Credit Union has upgraded their Visa Platinum Rewards credit card, now people earn two points for every buck they spend, up from the one point they had been earning. This news comes on the heels of the issuer rolling out the Alliant Cashback Visa Signature Card, letting cardholders earn 3% cash back on all their purchases during the first year they have this card, and then earning 2.5% from that point on.
Alliant offering cardholders more rewards whether it's in points or cash back is seen by the issuer as a way to give their customers more of what they have been asking for – rewards. "Both the new Platinum Rewards structure and our new Visa Signature card are direct results of listening to what consumers want," said Michelle Goeppner, Alliant Senior Manager of Credit Product Strategy.
Platinum Rewards
People can earn unlimited points when using the Alliant's Visa Platinum Rewards card to make purchases. What about other fees? There is no annual fee when people get this card, and if they want to do a balance transfer there is no fee to make that transaction either. Also, people can take advantage of the introductory rate that comes with this card, which could be as low as 0% for the first year.
Cardholders earn double points on purchases, but they can also earn more points when taking advantage of special online offers and retailer based promotions.
When it comes time to redeem points people can cash them in for everything from cash back and travel to merchandise and gift cards. They can also use them to make donations to charities.
The Alliant Cashback Visa Signature Card
This card was designed for people who typically make $50,000 or more in purchases with their credit card during the year. Besides earning 3% cash back for the first year, and 2.5% for every year after that, there is no limit to how much cash back they can earn.
Also, it comes with interest rates that can go as low as 10.99% and there are no foreign transaction fees for individuals traveling abroad. There is a $59 annual fee for this card, but it is waived during the first year.