The content is accurate at the time of publication and is subject to change.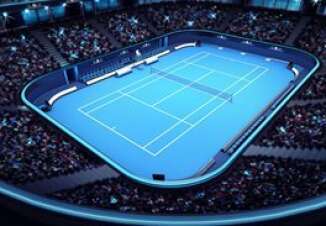 American Express cardholders who will be heading to the U.S. Open have a lot to look forward to besides great matches, food and fun. Amex is now offering them the chance to get Amex Bands so they can make digital payments with a tap of their wrist. And the bands or an actual American Express credit card gets them a variety of perks, including lounge access, free American Express Radios and mobile phone chargers, and $20 back with a $100 spend.
Getting the Amex Band
Cardholders who want to forgo digging out their credit card may want to pick up the Amex Band while they are at the Open. The Amex Band is a contactless payment wristband, which lets cardholders easily make payments. The band is linked to their account, and also lets them access special benefits while at the Open.
Where can they get the Amex Band? Cardholders can get one at several locations, including the U.S. Open American Express Fan Experience, the South Plaza and American Express Radio Satellite Booths. Once there they can get a band and have it activated. Cardholders can get one band for each of their American Express cards.
Once cardholders have their Amex Band they can use it pay for food and drinks at the concession stands, as well as buy merchandise. It also gives them access the American Express Card Member Club, as well as special items in the US Open American Express Fan Experience.
Getting $20 back, lounge access and more
With a $100 spend cardholders can get $20 back between August 27 and September 9, 2018. To take advantage of this offer, people must enroll their card. Cardholders who pick up their Amex Band are automatically enrolled. People who are using their card will have to "swipe" their American express card to enroll. This can be done at one of the issuer's location sites.
While at the U.S. Open, Platinum and Centurion Amex cardholders can also check out the Centurion Suite, which will be located at the Louis Armstrong Stadium. The lounge will give them a place to get some rest and relaxation while at the event. They can use their Amex band or their credit card to get into the lounge.
All cardholders can get a free American Express Radio while at the event, as well as mobile phone chargers - both of which can come in handy when at an event like this one.
To get more information about the Amex Band and the perks available to cardholders at the U.S. Open, visit this website.