The content is accurate at the time of publication and is subject to change.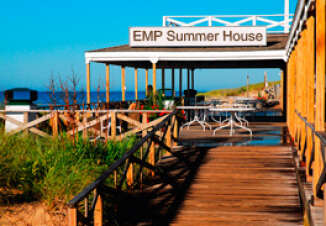 The Hamptons are known for beaches, restaurants, vineyards and fun in the sun, and this summer due to an exclusive partnership, American Express cardholders will be able to book dinner reservations at the EMP Summer House, an East Hampton pop-up restaurant launched by Eleven Madison Park.
Only people with an Amex card can book a reservation at this restaurant, and the only form of payment they will accept besides cash is American Express.
Besides booking reservations at EMP Summer House, all cardholders will be able to scoop up presale tickets to the Hampton Classic, running between August 27 and September 3. American Express is also the official card of the Hampton Classic.
EMP Summer House
American Express cardholders can now start booking reservations for June 24 through July 15. But they can book reservations for later in the summer starting June 1, being able to get a reservation for lunch or dinner until August 15. If they want to get a reservation from then until Labor Day, they can book it starting July 1.
EMP Summer House will be offering a seafood-heavy menu created by Chef Daniel Humm and Will Guidara. The restaurant is more casual than the one in New York City, creating a venue where people can grab a drink, along with a lobster roll, fried chicken, or burger, or chow down on a multiple course dinner served up with wine.
Where can people find EMP Summer House? They will take up residence at 341 Pantigo Road in East Hampton, with the restaurant officially opening on June 24 and staying open until Labor Day. They will be serving dinner on Monday, Tuesday and Thursday, while they will be open for both lunch and dinner Friday through Sunday.
Platinum card perks
Platinum cardholders can also attend exclusive events at EMP Summer House. These events are part of their By Invitation Only series starting on July 4, launched with a carnival-themed party for the holiday. Platinum cardholders will also be able to get tickets for other special By Invitation Only experiences being rolled out for the Hamptons Classic.
People can get more information and book a table on the EMP Summer House website, while Platinum cardholders can reach out to the Platinum Card Concierge to get a reservation.