The content is accurate at the time of publication and is subject to change.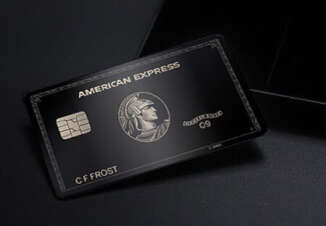 The Centurion Card from American Express, also known as the "black card" is one of the most exclusive and expensive credit cards. Now it is also one of the most artistic cards with new art cards designed by artists Rem Koolhaas and Kehinde Wiley.
The American Express Black Card has a $5,000 annual fee, $10,000 initiation fee, and until recently it had only one design option. Now cardmembers can select one of two artist-designed Centurion cards or choose to keep the classic card design.
New Centurion card designs were created in collaboration with architect Rem Koolhaas and artist Kehinde Wiley. Koolhaas' design has elements of his Boompjes project (a commission to redevelop a district in Rotterdam, Netherlands) on the new Amex Centurion Card. Wiley's version of the new Centurion has the artist's signature botanical patterns as a background (a recognizable part of Wiley's works featuring African Americans).
In addition to new card designs, Centurion cardholders can now opt into receiving a wearable card - the "Prada Centurion" wristwear. This payment bracelet is made of Saffiano leather by Italian fashion house Prada. The Centurion wearable has no cords or charges, or battery - only a chip embedded in the leather bracelet.
The ultra-premium Amex Centurion Black card now has unique fresh card designs to fit the card's exclusive perks and benefits. And you will be able to wear this card on your wrist now.