The content is accurate at the time of publication and is subject to change.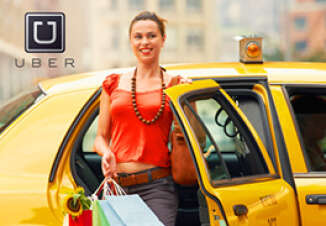 American Expresses Shop Small Saturday is happening on November 26, and along with cardholders earning 2x the rewards through the end of the year when they shop at small businesses both in real time and online, Amex has announced some extra perks due to partnerships with Uber, The Infatuation and Daybreaker.
The Shop Small Saturday extras include everything from free Uber rides in New York City to dance parties in New York City, San Francisco and Chicago. All of these events and extras are not only ways for America Express helping to get more consumers into small businesses but to also bring more local and small businesses into the Shop Small Saturday family.
"This year, we want all kinds of small businesses to get involved – from fitness studios, to cafés, to retail stores and restaurants – so we've created even more ways for Americans to participate on Small Business Saturday, whether you're a night owl or morning person," said Elizabeth Rutledge, executive vice president, Global Advertising and Brand Management at American Express.
Uber for free
Do you like to get an Uber to take you home after shopping or out for the night? If so you might be interested in taking advantage of a free UberPOOL ride (up to $20) available for American Express cardholders in NYC. They can use this ride no matter what borough they live in. People don't have to sign up for anything they simply type SMALLBIZSAT into the Uber app when requesting a ride.
But what if you have never used Uber before? Well you can give it a try for free using UberPOOL and the code SHOPSMALL2016 between now and December 31.
Dance, dance, dance
Dance + Yoga Sesh with Daybreaker is also on the Shop Small Saturday agenda. Daybreaker, an early morning dance party, which has people up and dancing before heading off to work, has partnered up with American Express on Small Business Saturday to have dance parties in New York City, San Francisco and Chicago. People can get up, and get in a workout (yoga and fitness) and dance party, complete with Djs and performers. These parties also feature food and beverages brought in from local businesses.
The Infatuation, is an online portal letting people find the top restaurants in their local area. For Shop Small Saturday they will be throwing events at restaurants located in New York City, Los Angeles, Washington, D.C., and San Diego. These events are designed to highlight local restaurants, and each venue will create special Shop Small Saturday menus.
To get more information about any or all of these events people can check out the website.