The content is accurate at the time of publication and is subject to change.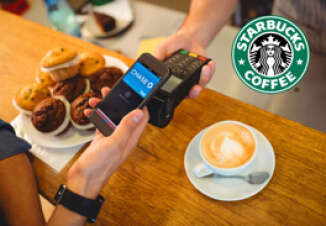 Chase Pay, the new digital payment system from Chase, is now open for business. Chase Pay lets people pay for purchases with their Chase Visa Credit, Debit and Liquid cards via the Chase Pay app, whether shopping in brick-and-mortar stores, online or using apps.
Right now it can be used at over 7,500 U.S.-based Starbucks and just about 1,400 Best Buy stores. In the near future people will be able to use it at Phillips 66, Conoco, 76, Walmart, ShopRite and The Fresh Grocer (Wakefern Food Corp.), and at Shell stations. Chase Pay has been enabled for both iPhone's and Android devices.
"Chase Pay is special because it's the first digital payments solution that benefits both consumers and merchants," said Jennifer Roberts, president of strategic alliances and loyalty solutions for Chase. "By focusing on merchant needs first – lower cost, zero fraud liability – we've got a real opportunity to break through the mobile payments noise."
Getting Chase Pay
To get started Chase customers can go to the App Store or Google Play Store depending upon which phone they have and download the Chase App. Once its downloaded they can sign into the app using the same login (User ID and password) they use when logging into the Chase website to manage their cards and accounts.
Once logged into the app, they will see that their Chase Visa Credit, Debit and Liquid cards already in the app waiting for them. They can use Touch ID going forward to get into the app, which will expedite payment when paying at the register.
What you can do with the Chase app
With Chase Pay people can now use use their smartphones and devices to make payments using a QR code-based system at Starbucks and Best Buy stores. They can also use the app to reload their Starbucks card without leaving the Starbucks mobile app when using an iPhone. This feature will be available for Android users in the future.
While in the app they can also use it to check out their available credit and account balances – and review their transactions for the past three months.
People can get additional information via the website.