The content is accurate at the time of publication and is subject to change.
This content is not provided by Citi. Any opinions, analyses, reviews or recommendations expressed here are those of the author's alone, and have not been reviewed, approved or otherwise endorsed by the Citi.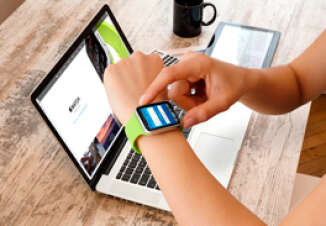 The Apple Watch is coming out on April 24th and so is the Citi, a Credit-Land.com advertising partner, Mobile Lite app designed to give Citi customers access to their accounts directly from their new watch or their iPhone.
The app gives Citi debit and credit cardholders the ability to check out their account balances and recent transactions from their watch. As part of their package, they will also be notified each time they make a credit or debit card transaction in real time, making it easier to keep tabs on their account. In light of recent cyber security issues at retailers this feature may give some users an added level of security.
When the app is launched, customers who purchase the watch or who want to use the app with their iPhone, simply download the app from iTunes. When that's done they login, register and once that's complete they can get started doing their banking.
No password needed
The Citi Mobile Lite App also lets users access their account without using a password when they are using their smart device, whether the Apple Watch or iPhone. This part of the app's functionality is due to their use of Citi Mobile Snapshot, an opt-in feature initially developed and rolled out by Citi in 2014.
Snapshot gives people the ability to review their credit and debit card information without having to plug in their password every time they open the app. At the time, Citi was credited with being the first bank in the U.S to make this feature available to their customers.
Increasing mobility
Part of this app's development stems from Citi's ongoing efforts to make banking easier and more convenient for their customers. "Apple Watch users will have access to all sorts of information and services, and if our customers want to check their balance or view a seconds-ago transaction right on their wrist, it is our job to make sure they can." said Heather Cox, chief client experience, digital and marketing officer for Global Consumer Banking at Citi.