The content is accurate at the time of publication and is subject to change.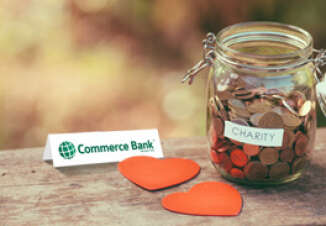 Commerce Bank has inked a deal with Charity Charge to be the exclusive issuers of the Austin-based organization Charity Charge MasterCard, letting people donate to their favorite charity by simply using their credit card as they normally would. With this card they automatically donate 1% of all purchases to the non-profit of the cardholders' choice, as well as K-12 schools, colleges, universities or religious organizations. There is no annual fee for this card.
How donating works
The Charity Charge MasterCard works just like a regular credit card, but instead of people getting the cash back it will automatically be donated to the cause of their choice. But people do not have to stick to one they can choose up to three different charities to support.
With this card they also have the flexibility to change their choices whenever they want to so they are not locked into any of their choices. What are the criteria for charities? They must be a 501(c)(3) located within the U.S.
People can use an online dashboard to track what kind of impact their donations is having, and all their cash back actually goes to the charity because Charity Charge underwrites all the associated processing fees that go along with these kinds of donations. But currently people can not take a deduction for their donation.
The card also comes with MasterCard extras including access to the World car rental program, MasterCard Global Service, Concierge services, MasterCard Airport Concierge, World air program and World tours & vacations program. They also get extended Warranty, Zero Liability protection, ID Theft Protection, and price protection.
Charities on Millennial radar
Community involvement and giving back are trending with Millennial's who are the target consumer for many brands. Commerce recognizes this aspect, and Chad Doza, senior vice president of consumer card products at Commerce Bank, addresses the issue "at Commerce, we understand the importance of introducing innovative payment technologies to meet the needs of this demographic.
toggle®, for instance, is a payment feature offering our customers choice and flexibility – two factors that are very important to Millennials. We view our relationship with Charity Charge through a similar lens – reaching cause-minded consumers in a way that seamlessly aligns with their lifestyle and purchasing habits."
To get more information on this card visit the website.