The content is accurate at the time of publication and is subject to change.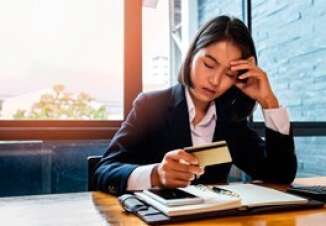 While mortgage-related debt is down by 5.5%, consumer debt in general is on target to exceed peak 2008 levels by as much as $1 trillion, according to a new study by LendingTree. They found that for the most part this upswing is due to in non-mortgage consumer debt, including credit card debt and student loan debt, which is up 45%. That said, student loan debt is outpacing credit card and other forms of installment based debt in terms of growth.
The Consumer Debt Outlook for June 2018 by LendingTree found that if consumer debt levels stay on their current trajectory, they are set to hit $15.7 trillion by the end of the second quarter. During the same time period ten years ago it was $14.7 trillion. So where did the $1 trillion increase comes from?
Credit card and student loan debt
Over the last ten years they found that not only has the mix of credit card debt, student loans and auto loans experienced a 45% upswing, this kind of consumer debt is also on track to pass the $4 trillion mark by December 2018.
That said, it seems that mortgage payments are less troublesome to Americans these days, even if you take into consideration that they make up the biggest share of consumer debt.
But student load debt is a problem for many, passing the $1.5 trillion mark and making up 42% of consumer debt. Credit card balances make up just 27% of total credit. During this same time period a decade ago, these percentages were reversed.
Consumers handling credit card and mortgage debt better
Even with debt levels up, they found that consumers are handling debt much better than they did in 2008, with mortgage payments making up 68% of their disposable income and credit card balances accounting for 7% of their income.
That said, millennials are not in sync with this trend. They have more student load debt, and because of this, own fewer homes.
LendingTree is an online loan marketplace, providing consumers with a way to comparison-shop for loans and credit-based products. Since its launch, LendingTree has assisted with over 65 million loan requests. They also offer free monthly credit scores to consumers.