The content is accurate at the time of publication and is subject to change.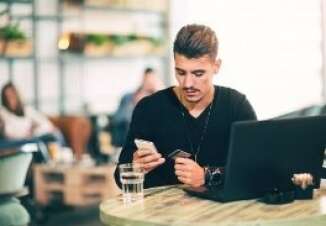 Debt is a big concern for many Millennials, according to a new study out by Clif Bar, finding that for 56 percent of young Americans (18 to 34 years old) education-related debt makes it hard for them to look for a job that would be satisfying. Instead, they feel that they have to take a job or pursue a career based on salary. Education debt is the most burdensome, but credit card and medical debt follow close behind it.
The Clif Bar study looked at the impact financial debt can have on college students who are getting ready to graduate. They found that it is a big issue especially for those who are interested in working in a field that they find fulfilling, with 74 percent indicating their debt may keep them from taking a job that makes them happy after graduating.
What about having a rewarding career? For 73 percent, finances may prevent them from pursuing their career of choice—and 63 percent would take the first job they could get just so they could start paying down their debt, whether it's from credit cards or educational expenses. Paying off debt quickly definitely trumps career satisfaction for 68 percent who indicate that they are either "very" or "extremely" likely to say yes to a job so they could see their debt level go down.
New Scholarship: Clif Bar doing their part
The protein bar company is launching the Clif Bar's Business with Purpose Scholarship—a scholarship that will go to four college seniors who are graduating. It is designed to help them get out of debt so they can pursue a career that will make them happy.
They will each get up to $37,172 to cover their student loan debt, but they will also get a $3,000 stipend every month for up to a year, along with mentoring via Clif Bar to help them find life and career satisfaction.
"At Clif Bar, the freedom to prioritize our values over short-term gains has been key to our success for more than 25 years," said Gary Erickson, founder, co-owner and co-chief visionary officer of Clif Bar & Company.
"With this scholarship, we hope to inspire the next generation to prioritize purpose at a pivotal moment in their lives, rather than letting conventional wisdom or financial realities determine which path they take after college," he added.
The Clif Bar social purpose survey was conducted on March 24-27, 2018, by Toluna. They interviewed 1,044 people falling in the 18 to 34 age range who said they were financially insecure.