The content is accurate at the time of publication and is subject to change.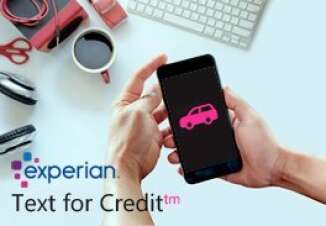 Applying for a credit card can take time, but these days time is precious, something that Experian knows, so they have streamlined the process with the release of Text for Credit, a new technology that lets people quickly and securely apply for credit via text message. With this feature, they get an instant decision, and once approved they can use their credit on the spot.
Text for Credit reduces the time it takes to start and finish the credit application process by letting people send a text message. For example, people who want to apply for a special promotion or incentive that comes along with a store credit card they don't have can get the card by simply using their mobile device.
"Technology has brought vast improvements to consumer banking, insurance, and investing services, but the credit application process has remained largely unchanged," said Alex Lintner, Experian's president of Consumer Information Services.
"With Text for Credit, consumers will get real-time access to credit, creating a better experience for the consumer and increased conversion for lenders and businesses," he said.
The ins and outs of texting for credit
How does it work? Merchants or credit issuers will post or supply a code that lets consumers start the text for credit process. When people want to apply for an offer, they text a key work like CREDIT to the number, in a similar fashion as some retailers let consumer's text to buy merchandise.
At that point, they will get a response via text that includes a link. Once they click the link they are taken to a website, where they can quickly and securely apply for the offer. The system is set up so that in many, if not most cases, people will be recognized by their devices credentials, so they can bypass filling out the form.
Consumers will get a decision right away once they complete the process. If they are approved they will automatically be able to take advantage of their credit line by using a barcode or other account information that is sent to their device via text.