The content is accurate at the time of publication and is subject to change.
This content is not provided by Citi. Any opinions, analyses, reviews or recommendations expressed here are those of the author's alone, and have not been reviewed, approved or otherwise endorsed by the Citi.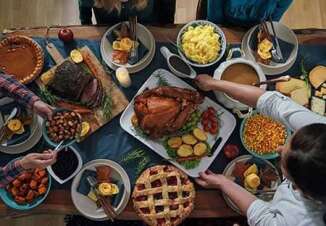 Thanksgiving is just around the corner and if you haven't prepared yet, you may need some tips on how to put Thanksgiving dinner on the table for less cost.
According to research from data analytics firm IRI, the traditional Thanksgiving meal items will cost 13.5% more this year than they did a year ago. Despite the inflation and price tag, big celebrations are back. Many Americans are planning a celebration similar in size to those they had before COVID-19.
If you are hosting Thanksgiving dinner, you can use these pieces of advice to reduce the cost and stay within your budget:
- Take advantage of discounted prices. Big retailers, such as Walmart, always try to offer discounts on Thanksgiving essentials like sweet potatoes, pumpkin pie, green beans, and, of course, turkey.
- Don't buy a giant turkey. The price of the bird itself increased, which is quite noticeable on a grocery bill. While there may be some discounts, a big turkey will still cost a lot. A smaller bird and plenty of appetizers and side dishes would be a smart move.
- Ask your guests to bring some food or drinks. It's OK to ask your guests to bring their favorite side dishes. Even if only some of them will do this, you still won't need to do everything yourself.
- Create various cocktails. Alcohol is a huge factor in the cost of holiday meals. Making a punch or other cocktails that require less alcohol per drink, can stretch your alcohol a little further.
- Shop online. Many Thanksgiving discounts are available online as well. So instead of driving to a store and spending your time shopping for essentials, order everything online. Thus, you will save time and money, and will have more time to prepare to meet your guest.
In addition to those tips, you can also use a credit card with rewards to save more on your Thanksgiving shopping. It can be a credit card with rotating rewards, like the Discover it® Cash Back or the Chase Freedom Flex℠ Credit Card, that allows to earn additional cash back in quarterly categories. Or it can be a credit card with flat rewards on all purchases, like the Citi® Double Cash Card – 18 month BT offer (Citi is a Credit-Land.com advertising partner).
There's one thing you should keep in mind when using rewards credit cards, though. If you want your rewards credit cards to be worth it, you need to pay off the card balance in full to avoid interest. Also, always try to maximize your rewards by researching additional discounts or rewards that may be available to you through special shopping portals many big issuers have or partner with.