The content is accurate at the time of publication and is subject to change.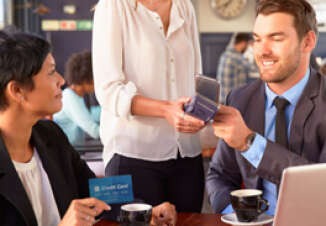 Have you ever wished you could make a payment from your ring, an appliance or maybe even your car? Well your wish may well come true due to a collaboration between IBM and Visa, designed to enable payments from all kinds of devices and services connected to the network that tech geniuses and those in the know call the Internet of Things (IoT). But it could also mean giving consumers more information and making their lives easier by alerting them when their running shoes are worn out or their car needs a new part.
Part of this collaboration includes the ability to leverage IBM's Watson IoT platform – and they suggest that together they could potentially connect up to 20 billion devices that may be in play by 2020 to make payments.
IoT is literally changing the world around us, whether it's allowing businesses to achieve unimaginable levels of efficiency or enabling a washing machine to ensure we never run out of detergent. Behind this transformation are companies like Visa and technologies like IBM's Watson IoT platform," said Harriet Green, general manager, IBM Watson IoT. "This combination of IBM's industry leading IoT technologies with Visa payment services, signifies the next defining moment in commerce by allowing payments on any connected object, with new levels of simplicity and convenience for everyone."
Outfitting up everything with IoT
The Visa and IBM's collaboration will make paying for things easier, but IoT also has Commerce-based applications. A wireless chip could be embedded into runners' shoes, so when their sneakers are past their prime the chip would give them a heads up. But that's not all. It could also let them know what model would be best for them, along with giving them information on pricing and where to get them.
What about your car? It could let you know when a part is wearing out and needs replacing, or even when your warranty is up while also letting people order parts from their car, or get them a service call. Want to pay for your gas? The car might be able to do that too by directly engaging with the pump.
The payment of things
What does this partnership mean for businesses? If things go as planned they will be able to gear up their entire product lines with secure payment options, using the Token service Visa has developed. This service lets payments go through without passing on critical data, so consumers sensitive data is kept safe from hackers and cyber thieves.