The content is accurate at the time of publication and is subject to change.
This content is not provided by Citi. Any opinions, analyses, reviews or recommendations expressed here are those of the author's alone, and have not been reviewed, approved or otherwise endorsed by the Citi.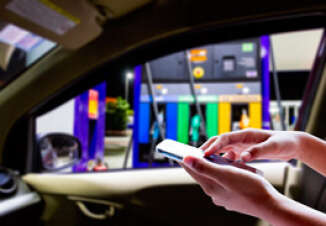 If you've been wondering when you might be able to pay for your gas using Apple Pay or another mobile payment system, then you're in luck, With the launch of Exxon/Mobiles Speedpass+ Mobile Payment App people can do just that directly at the pump for the first time. The app is now up and running at 6,000 Exxon- and Mobil-branded stores, with the last 2,000 stations are expected to be connected by the middle of 2016.
How it works
The Speedpass+ Mobile Payment app can be used with iPhone's or Android smartphones. The app is free and people can download it from either the App Store or Google Play depending upon what phone they have. Once downloaded, people can use it to pay for their gas or any in-store purchases, including coffee, chips and the newspaper.
They will be given an option to use Apple Pay or another payment option while in the app. With ApplePay once it's set up people will still be eligible to earn points or miles when using the system, or take advantage of other benefit. Speedpass can also be used with a checking account or a credit or debit card, including Visa, MasterCard, American Express, and Discover, as well as ExxonMobil cards.
The app works via cloud-based technology, and it gives people the option to get a receipt while at the pump or opt to get in via email, or if they want to get both they can do that too. The app also records users purchase history so they can look at it whenever they need or want to in order to keep track of their payments or even their gas usage.
Integrating payment options into the app is seen by ExxonMobil as being a way to save their customers time and give them another layer of convenience when pumping gas. "ExxonMobil wants to make filling up your vehicle even more convenient and the Speedpass+ app has been designed to save you time at the pump," said Matt Bergeron, vice president fuels and lubricants marketing at ExxonMobil, "The Speedpass+ app represents the next generation of payment options at our branded stations."
Citi and ExxonMobil
This new development came on the heels of an announcement by ExxonMobil and Citi, a Credit-Land.com advertising partner, at the end of 2015 that they had inked a deal to continue their co-branded credit card relationship.
With these cards consumers can save six cents a gallon when gassing up and buying at least 45 gallons of Exxon or Mobil gas during the month, while businesses save the 6 cents a gallon when buying anywhere from 100 and 800 gallons of gas per month.