The content is accurate at the time of publication and is subject to change.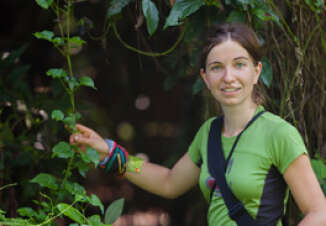 The new Sustain:Green MasterCard is a biodegradable credit card that donates money to rainforest preservation efforts with every cardholder purchase.
The credit card provider partners with MasterCard and Commerce Bank to assist in the fight against climate change. Reforestation efforts in Brazil, carbon emissions offsets, and partnerships with organizations like the American Carbon Registry all contribute to Sustain:Green's support of environmental causes.
There is no annual fee for the Sustain:Green MasterCard, and it carries a promotional offer of 1.9% APR on purchases for the first six months. A prepaid card is also in the works, but is not yet available.
Users can track—and shrink—their carbon footprint
With many credit cards, cardholders go to their online account center only to monitor their spending activity and payments due. But Sustain:Green cardholders can access their account dashboard online and calculate their personal carbon footprint—in other words, their individual impact on the planet's resources. They can also learn how to reduce their carbon footprint and track their efforts online.
With each purchase, Sustain:Green reduces the member's carbon footprint by two pounds per dollar spent. As a signup bonus, with the first purchase, the company will eliminate another 5,000 pounds of carbon on the member's behalf. These reductions are tracked by the American Carbon Registry and verified by nonprofit organization Winrock International.
Arthur Newman, co-founder and CEO of Sustain:Green said that many people feel reducing their carbon footprint and helping the environment isn't feasible for one reason or another. "After recycling, reusable grocery bags, and turning down the thermostat, the options most people have to reduce their carbon footprint usually fall into three categories, too difficult, too expensive, or not possible," explained Newman. "Just by using our card for purchases they would make anyway, consumers can shrink their carbon footprint for free, everyday, while also helping to preserve rainforests critical to combating climate change."
Commerce Bank committed to climate change initiatives
The issuer of this credit card, Commerce Bank, is committed to sustainability. They have increased their e-statement usage by more than 230% since 2009 by encouraging customers to go paperless, and reduced company energy consumption by more than 20% in that same timeframe. "Our relationship with Sustain:Green enables us to expand on our sustainability efforts by offering a customized credit card solution for Sustain:Green members to help reduce carbon footprints and preserve rainforests," said Chad Doza, senior vice president of consumer credit cards with Commerce Bank.