The content is accurate at the time of publication and is subject to change.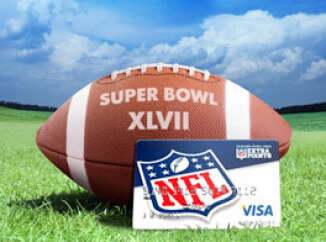 Football fans in New Orleans for this weekend's Super Bowl matchup between San Francisco and Baltimore will have the chance to participate in promotions by Barclays's NFL Extra Points Visa credit card.
Mask-wearing fan will win tickets
One lucky football fan in town without a ticket to see the San Francisco 49ers and Baltimore Ravens face off in this Sunday's Super Bowl game has a shot at winning a pair, courtesy of Barclays US and the NFL Extra Points credit card.
Beginning today, Barclays is dispatching teams to the streets of New Orleans to hand out masks advertising their NFL Extra Points credit card. People who wear the mask as they go about their business will be eligible to win two tickets to the Super Bowl. The winner will be announced by Indianapolis Colts kicker Adam Vinatieri on Thursday.
Colts kicker raises points for charity
Vinatieri, who is partnering with Barclays for the second year to promote the NFL Extra Points card, will also participate in a kick off challenge to raise money for the Brees Dream Foundation. The non-profit organization aims to improve quality of life for people with cancer and was founded in 2003 by New Orleans Saints quarterback Drew Brees along with his wife Brittany.
Vinatieri will make kicks from the 25-yard line and try to hit targets positioned inside the goalpost. If he hits all three targets, 1 million NFL Extra Points will be awarded to the Brees Dream Foundation. NFL Extra Points are the rewards earned by NFL Extra Points credit cardholders and are redeemable for one cent each, making the donation worth $10,000 cash.
Photo booth fun for NOLA football fans
The NFL Experience, the trademark Super Bowl extravaganza that offers fans in the host city a taste of the game day excitement, is located at the Ernest N. Morial Convention Center in New Orleans this year and features a photo booth sponsored by the Extra Points Credit Card. The booth lets fans upload pictures to social networks Facebook and Twitter and lets them apply for the NFL Extra Points credit card while they're at it.
The NFL Extra Points credit card lets fans earn football rewards with every dollar they spend on the card. They also save 20% on purchases at NFLShop.com. Cardholders can customize the card with their favorite team. Designs featuring all 32 NFL teams are available, but expect this year's Super Bowl winner to be a popular choice.