The content is accurate at the time of publication and is subject to change.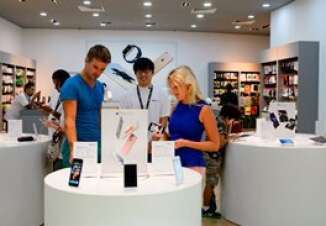 Chase credit card holders can now use their rewards to buy Apple products via the new Apple Ultimate Rewards Store. When shopping in the new store people with a Chase Sapphire, Freedom and Ink credit card can use their reward points to pay for their entire purchase or they can use their points to pay for part of their purchase.
Also for a limited time they are letting cardholders redeem one point for one cent. What does this mean? They can use one hundred points to pay for one dollar of their purchase when buying Apple products, whether they are looking for a new computer, iPhone or iPad.
This new development is seen by Chase as a way to give card their cardholders more in terms of buying power and flexibility before the holidays kick into high gear. "We know our customers crave flexibility and choice with their rewards, so we are thrilled to provide another option to instantly redeem points for the things our cardmembers love, including Apple's newest products," said Lisa Walker, Managing Director Ultimate Rewards and Loyalty Solutions.
"Ahead of the holiday shopping season, we are making it easier for our customers to get the most value out of their rewards," she added.
How it works
How do cardholders shop for Apple merchandise? They can go to the Apple Ultimate Rewards Store, where they can look for the items they are interested in purchasing. Once they find something they want to buy they simply use their points to make their purchase.
For instance, someone with 17,900 Ultimate Rewards points to spend could buy an Apple TV 4K with their points, or someone with 39,900 points could pick up the new Apple Watch Series 4 or even the iPad mini 4. Also, cardholders happen to have 99,900 points in the bank that is enough to snag the iPhone XS 64GB.
They can also use points to pay off the tax associated with their purchase.
To get more information on Ultimate Rewards and Apple Ultimate Rewards Store people can visit the website.