The content is accurate at the time of publication and is subject to change.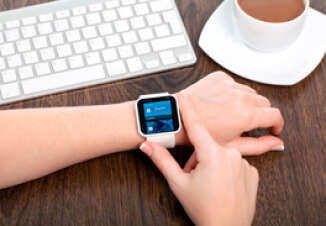 Keeping track of your credit card rewards can be a hassle, but what if you could tap your Apple Watch and it did all the work for you? According to Wallaby Financial, with their new app it's just that easy to optimize rewards every time you make a purchase, whether at the grocery store, gas station or out for an evening on the town.
The Wallaby Apple Watch App integrates this developer's proprietary software with the wearable technology, giving users recommendations on which card to use for a particular purchase to maximize rewards, as well as letting them keep track of their balances, view alerts and manage rewards.
"Earning credit card rewards shouldn't be a hassle," said Wallaby founder and CEO Matthew Goldman. "The Apple Watch will make it simpler and less intrusive than ever to optimize rewards on every purchase, and will keep vital information such as credit balances handy to help consumers avoid fees."
How it works
People who have an Apple Watch can download the app from the iTunes App Store, activate it, and then log in. It's important to note that they need to have a Wallaby account to use the app. During the setup process they enter their credit card information and their preferences, letting the app know whether they are more interested in earning cash back or rewards.
From that point on it will let them know which credit card gives them the best rewards for a particular transaction. How? Using the Apple Watch interface it knows where they are shopping, and then uses CardBase, Wallaby's proprietary database of more than 2,500 credit card profiles, in conjunction with the user's account information to create its recommendations.
Wallaby has developed similar apps for a wide range of platforms including Android Wear, Pebble, and Samsung devices.
Wallaby Financial develops credit card data and consumer financial information applications using their real-time optimization algorithms and their proprietary database. Their products are available across a wide range devices and platforms, including web, iPhone, Android, and wearables.