The content is accurate at the time of publication and is subject to change.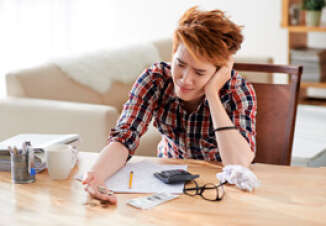 Paying off student loans can really crimp your style, whether you want to buy a house or travel, and this is especially true for Millennials, according to a new study. It shows that 51% are allotting one-fifth of their monthly income to pay their loans. With 60% believing that they will be paying them off way into their forties.
Citizens Bank's new Millennial Graduates in Debt study looked at how this generation is handling their student loans. Finding that it resulted in many making financial tradeoffs and some believing it was not worth cost in the end.
"The long-term cost of college continues to be a major challenge for Millennials, even after they have established themselves in the workforce and significantly improved their credit from where they were when they started school," said Brendan Coughlin, president of Consumer Lending for Citizens Bank.
College is getting more expensive
If you think the cost of going to college has gone up, you are right. According to The College Board, it costs more with tuition for public four-year collages going up 13% while the cost of private schools has gone up 11%.
Student loans are a key way of footing the bill. With 77% of people saying that they applied for and received federal loans while a third went with private student loans, which usually provide students with less money and need a co-signer to complete the process.
Student loan equals buyer's remorse for some
Millennials with student loans found that they had to make sacrifices to pay down their loans and make their monthly payments, in everything from travel to eating out. The tradeoffs included:
• 54% traveled less
• 50% limited their clothing budget
• 46% reduced how much they spend on going out
• 45% dined out less
• 40% budgeted less for rent or mortgage payments
With the tradeoffs came buyer's remorse for some Millennials, with 57% regretting taking out so many loans, and 36% indicating that they would have given college a pass if they knew then what they know now about the overall cost of the loans.
Yet even with that change of heart, just half looked at ways to reduce their payments whether that meant checking out refinancing options or consolidating their federal and private loans.
Citizens Bank's new Millennial Graduates in Debt study was conducted by TNS from February 10 to 22, 2016. They interviewed 501 U.S. Millennials between the ages of 18 and 35 who either were college students or graduates and had student loans.