The content is accurate at the time of publication and is subject to change.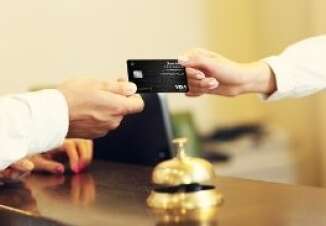 Chase and Marriott have joined forces to launch the Marriott Rewards Premier Plus credit card. It will offer cardholders 6x the points when booking stays at Marriott hotels, and double points on all other purchases. It will also offer 100,000 bonus points with a $5,000 spend within the first 90 days of having the card. The bonus will only be in play for a limited time.
This new card is slated to be available to consumers starting May 3, and it's designed to help people get more out of their adventures. "Travel is all about creating memorable experiences—whether that comes from a self-discovery journey or the opportunity to reconnect with those who matter most," said Leslie Gillin, Chase Co-Brand Cards President.
"We have designed this new card with that in mind and are giving cardmembers the opportunity to experience more—more points on all your spend, more places to stay and more perks to elevate your travel experience."
Additional perks and bonuses
Once people have the Marriott Rewards Premier Plus credit card in hand, they are also eligible for an anniversary free night certificate, which is good for a night at one of their hotels. This offer is good for rooms worth up to 35,000 points.
When looking to book stays, cardholders have access to just about 6,500 properties located in 127 countries and across 29 brands. Cardholders are also guaranteed elite status.
With this card, there are no foreign traction fees to deal with when traveling abroad, and it also comes with purchase protection and trip delay reimbursement.
The annual fee for the card is $95.
Marriott's new rewards program coming, too
Along with this news came the announcement that Marriott Rewards, The Ritz-Carlton Rewards and Starwood Preferred Guest will be unifying their loyalty programs. They will all begin offering the same benefits.
This new card is designed to work with the new, combined rewards program. "The new Marriott Rewards Premier Plus credit card is a catalyst to the full potential of our loyalty programs," said David Flueck, Senior Vice President of Global Loyalty, Marriott International. "The strong value proposition of the card, along with the enhancement to Marriott's loyalty programs, makes the Premier Plus card a must-have travel rewards card."