The content is accurate at the time of publication and is subject to change.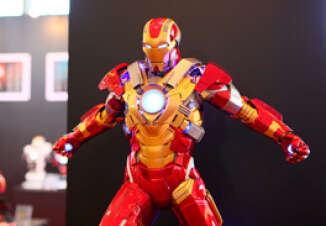 For fans of SciFi and super hero movies the new MasterCard from Synchrony Financial and Marvel may well be a dream come true featuring fan favorites likes Spider-Man and Iron Man. Along with the super hero theme the cards also offer up to 3% cashback on purchases, as well as the usual perks associated with MasterCard.
With this series of cards people earn 3% on entertainment purchases, whether heading to the movies, a show or playing a game. But that's not all. They also get 3% back when they eat out and when shopping on Marvel's website or booths. They earn 1% cash back on all other purchases, as well as getting 10% off when shopping at Marvel's official merchandise booths. Rewards are given as a statement credit.
Once cardholders make their first purchase they will receive a $25 bonus, which will show up as a credit on their statement. People also get free shipping on purchases via the Marvel website during the year when they run special promotions. There is no annual fee for this card but there are foreign transaction fees when you are traveling outside of the U.S.
Superheroes and more
In keeping with comic book theme, cardholders also get discounts on Marvel unlimited or digital comics and fans can choose from a wide array of superhero-themed cards including one featuring Captain American's Shield and another decorated with a variety of heroes including the Hulk and Thor.
This partnership between Synchrony Financial and Marvel is seen as a way to give cardholders more and build upon the fact that both companies have long histories in their respective industries.
"The Marvel MasterCard provides payment flexibility, cashback rewards and exclusive benefits for cardholders," said Tom Quindlen, executive vice president and CEO, Retail Card, Synchrony Financial. "We're excited about our relationship with Marvel and the value this new card will bring to loyal Marvel fans and others who enjoy the benefits of a cashback program on dining, entertainment and merchandise."
People can sign up for the new cards on the website where they can also manage their cards once they are approved.