The content is accurate at the time of publication and is subject to change.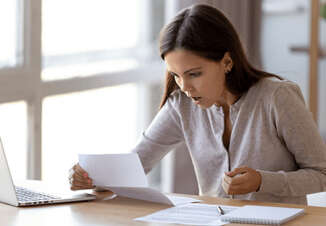 When was the last time you checked your credit reports? The number of credit reporting errors has quickly increased since the beginning of the coronavirus pandemic.
According to data from Consumer Reports and the Consumer Financial Protection Bureau, people complained about credit reporting errors more often in 2020 than in the previous year. In fact, the number of complaints about errors on credit reports more than doubled.
Some of the errors stem from the CARES Act, which was designed to help people struggling during the pandemic. This law requires certain companies to offer deferred payments (and report them as current) to ease financial pressure on the consumers. Also, some banks and lenders voluntarily offered deferrals or granted forbearance. But some companies erroneously reported those deferred payments as late.
Other common errors on credit reports include cases when credit accounts appear as unpaid, personal loans listed multiple times, paid off debts incorrectly reported to collectors, and when there is incorrect personal information.
Credit report errors have always been a problem for Americans. Credit reports and credit scores are used in many aspects of our financial life. They help determine whether you can qualify for loans and credit cards, the interest rate you'll pay, whether or not you can buy a home or even get a job. An error on your credit report may turn your exceptional credit into a good credit or lower your good credit to fair credit and lower your chances to qualify for credit at favorable terms.
During the pandemic, you are allowed to request a free copy of your credit reports every week. This will help you keep an eye out for incorrect information and act fast.