The content is accurate at the time of publication and is subject to change.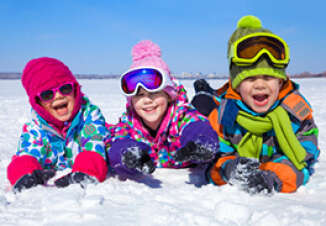 Do you find yourself spending more money than you planned during the holidays to make your kids dreams come true? If so you are not alone, according to the new T. Rowe Price's Parents, Kids & Money Survey, with 25% of respondents saying that they have borrowed money from their 401(k)s, taken money out of their emergency fund, or gotten a payday loan to make sure they could get all the items on their kids holiday wish lists.
What about credit cards? They were in demand but parents were quick to pay them off, with 56% of those charging presents on their credit cards, and 61% taking just 90 days to pay the bills. But 16% took longer to pay down their holiday credit card debt, indicating that it took them over six months to clear the balance.
When it comes to average costs, parents typically spend an average of $422 (median: $300) per child falling in the 8–14 age range, yet 34% shell out $500 or more.
Holiday glee trumps budgeting
Budgeting lost out when faced with the idea of not getting everything on their kids holiday list. When asked to agree or disagree with this statement, "I try to get everything on my kids' lists, no matter how much it costs," 53% of parents gave it a thumbs up. And to drive the point home 58% also said that they never stay on the holiday budget they set for themselves.
When looking at the gender divide, men are the ones who are more likely to get their kids everything on their list (60% vs. 45% for women).
Yet parents also have a good dose of holiday buying remorse, with 64% acknowledging that they spend more over the holidays that they should have. While 25% of parents might find themselves in the penalty box for taking money out of their retirement fund, emergency fund or signing up for a payday loan, 68% have been saving for the holidays all year long to make sure they have enough cash on hand.
Millennials are savers and spenders
Millennials are the generation most likely sock money away for the holidays, but they are also more likely to spend more than they intended with 83% of millennials saying that they save during the year, outdoing the older generations with 67% of Gen Xers and 50% of baby boomers doing the same.
When it comes to staying on their budget, they have a hard time, and are more than likely to admit that they overspend (69% of millennials vs. 58% of Gen Xers vs. 42% of baby boomers). And they also admit to trying to get everything on their lists, and the cost does not get in the way (75% of millennials vs. 50% of Gen Xers and 33% of baby boomers).
The eighth annual T. Rowe Price Parents, Kids & Money Survey took place February 4 to 11. They spoke with parents of kids falling in the 8- to 14-year-old age range.