The content is accurate at the time of publication and is subject to change.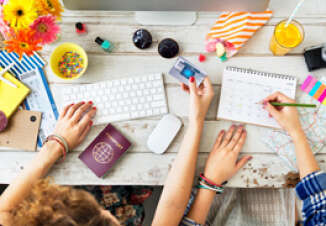 If you are passionate about travel, then you might be happy to find out that people who opt for the American Express Blue Cash Everyday Card are now eligible for a new bonus - able to earn up to 5% cash back on up to $4,000 worth of travel expenses. They can earn on everything from hotel rooms, airfare and rental cars to cruises, vacation packages and bookings made through third-party travel sites.
When you do the math it means that cardholders can take home up to $200 in cash back when hitting the road. This offer is good for the first six months of having the card, and is in addition to the $100 they receive after hitting the $1,000 spend threshold within the first three months. Both bonuses are given as a statement credit.
This is seen as being a welcome for new cardholders who are into travel. "We are pleased to offer our new Blue Cash Everyday Card Members the opportunity to earn even more cash back on the travel purchases they love to make. As always, our Card Members are backed by the service and security of American Express whenever they use their Card," said Jed Scala, senior vice president of Consumer Lending at American Express.
Triple and double back with the Blue
These extra bonuses are in addition to the cashback earnings that already come along with the card, which includes 3% back at the pump and certain department stores, 2% back at supermarkets and 1% back on all other purchases.
There is no annual fee with this credit card. And people can earn accelerated cash back when they outfit their family or friends with an additional card because they get the rewards they earn along with their own. They can also track their cash back online via the website, which includes getting up-to-date reward balances, spending and reward possibilities.
Also the card comes with the benefits associated with American Express, including access to the roadside assistance hotline, global assist hotline, and dispute resolution, along with access to ticket pre-sales and cardholder-only events in your city or one nearby.
For more information people can visit the website.