The content is accurate at the time of publication and is subject to change.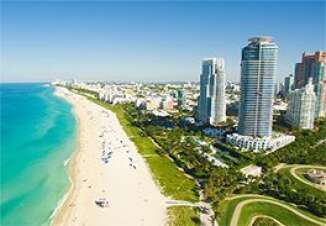 Now commuters and tourists in Miami can use their contactless Visa and Mastercard credit and debit cards to pay for a ride on the Miami-Dade Transit Metrorail. All it takes is a tap, but they can also use their payment-enabled device to get a ride too.
This initiative is already up and running. It was rolled out on August 21st and is seen as a way to give both Miami residents and tourists a way to get around the city easier and faster. "My administration has been clearly focused on incorporating innovative technologies to make public transportation both hassle-free and appealing," said Miami-Dade County Mayor Carlos A. Gimenez.
"The launch of contactless payments for our transit riders marks a great step forward for Miami-Dade County," he added.
Visa's touch on Miami and the Super Bowl
This upgrade to the transit system is also seen as a way to give sports fans a more streamlined experience when Miami-Dade County hosts Super Bowl LIV at the Hard Rock Stadium. The Super Bowl is taking place in February of 2020. Visa is the Official Payment Services Technology Partner for the National Football League, and they will be giving visitors and sports fans additional ways to pay with tap and go technology.
"Tapping to pay at the fare gate helps save valuable time by removing the need to stand in line to purchase or load a separate transit card while helping reduce congestion and avoid traffic," said Dan Sanford, global head of contactless payments for Visa.
Mastercard branching out
Mastercard is not only bringing tap-and-go payments to Miami's Metrorail stations they are also prepping to expand consumers reach later in 2019 so that they can use their credit and debit cards on the Metrobus too.
"Transit is serving as an important catalyst to drive the use of contactless payments in the U.S.," said Linda Kirkpatrick, executive vice president, U.S. Merchants, and Acceptance, Mastercard. "When commuters use contactless payments for transit, there's a halo effect on nearby contactless-enabled merchants, especially coffee shops, grocery stores, and pharmacies."
Other cities in the world have been upgrading their systems so that cardholders can use their payment cards to get on mass transit as well. These cities include New York, London, Rio, and Singapore.