The content is accurate at the time of publication and is subject to change.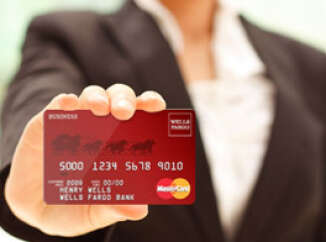 Small business owners with no credit history often face difficulty getting the financing they need to get their businesses off the ground. But two new secured credit products from Wells Fargo are designed to help entrepreneurs with limited or bad credit.
Secured credit cards and lines of credit are traditionally offered to people trying to rebuild their credit, or who don't yet have sufficient credit history to qualify for another type of loan or credit card.


Earn interest with a secured line of credit
The Wells Fargo secured BusinessLine line of credit gives businesses up to $100,000 and is secured by a Wells Fargo CD or savings account. With BusinessLine, small companies can keep their savings intact while maintaining an avenue for cash flow. There is no requirement for how long a company has been in business, so brand-new businesses can qualify for the line of credit.
By using the line of credit and staying within the terms of the agreement, business owners will not only establish or rebuild their credit history, they will continue to earn interest on the collateral. With most secured lines of credit, collateral does not earn interest, but since Wells Fargo puts the collateral into a savings account or CD, it serves as an investment as well as collateral.
There is a $50 annual fee for the line of credit.
A secured business credit card with rewards
Business owners who prefer to have a secured credit card can apply for the Business Secured Credit Card, which gives cardholders the option of enrolling in the Wells Fargo Business Card Rewards program. This program lets members earn rewards for making purchases with the card and gives 1 point on every 1$ spent. The card has a $25 annual fee and no annual rewards program fee if enrolling in the rewards program.
To fund the card initially, customers must put down between $500 and $25,000 as collateral. Business owners can get as many as ten cards for employees, and the card can be used to pay for any type of business expense.
With responsible use, cardholders can build, establish or repair their credit. As with the BusinessLine line of credit, there is no requirement for how long a business must be in operation before applying for the Wells Fargo Business Secured card.