The content is accurate at the time of publication and is subject to change.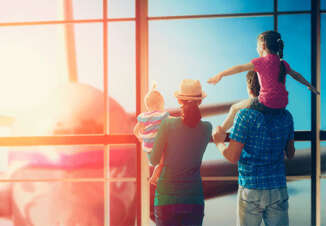 Air Canada completely revamped its loyalty program, Aeroplan, and introduced new co-branded credit cards. While U.S. residents cannot apply for an Aeroplan credit card, they can enjoy new loyalty benefits like family points sharing, new stopover rules and more.
The new Aeroplan program comes with added value and will appeal to a broad range of travelers. Some of the new benefits and perks include no carrier-imposed surcharges on awards redemptions, stopovers for award tickets, free points sharing between family members, point plus cash redemptions on any flight, easier awards booking, and some other benefits. Plus, Aeroplan keeps its award chart, which means you won't see dynamic pricing for partner flights, not yet.
The suite of redesigned Aeroplan cards includes the American Express® Aeroplan® Card, American Express® Aeroplan® Reserve Card, and American Express® Aeroplan® Business Reserve Card. These cards are available to Canadian residents only.
As a part of the welcome bonus, the mid-tier American Express Aeroplan Card offers a one-time bonus Buddy Pass. The premium American Express Aeroplan Reserve Card and American Express Aeroplan Business Reserve Card offer one Annual Worldwide Companion Pass for spending $25,000 on eligible purchases prior to the card's anniversary date. It is not a free companion pass, plus you will have to pay all necessary taxes, fees, surcharges, and charges.
Cardmembers of the American Express Aeroplan Reserve Card and American Express Aeroplan Business Reserve Card will also get access to Maple Leaf Lounges and Air Canada Cafes in North America, with a same-day ticket on a departing Air Canada or Star Alliance flight.
You can check out those and other benefits on the Air Canada official website. Plus, Canadian residents have other credit card choices apart from American Express Aeroplan credit cards. There also are TD® Aeroplan® personal credit cards and CIBC Aeroplan credit cards.
Unfortunately, Air Canada has not announced when U.S. residents will be able to apply for an Aeroplan credit card. Still, U.S. members of the Aeroplan program have other ways to earn Aeroplan points faster. Aeroplan partners with some transferable-points programs, including Amex's Membership Rewards program, Marriott Bonvoy, and Capital One.