The content is accurate at the time of publication and is subject to change.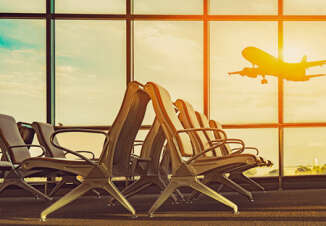 American Express opened its 13th Centurion Lounge at John F. Kennedy Airport (JFK)'s Terminal 4 this October. The new space is the largest Centurion Lounge with more than 15,000 square feet and two floors.
"Our flagship Centurion Lounge at JFK is our fourth location to open in 2020 and reiterates our commitment to backing our Card Members whenever they may be ready to travel, while striving for a safe environment for all," said Alexander Lee, Vice President of Travel Experiences and Benefits, in the press release.
The new Centurion Lounge at JFK includes American Express' first-ever "1850" speakeasy bar (a reference to the year Amex was founded) with cocktails delivered by Centurion Lounge mixologist Jim Meehan, an Equinox Body Lab with performance-driven restorative therapies, Wi-Fi, power outlets, private rooms, premium restrooms, shower suites (currently closed), and more.
Lounge access is available to anyone with a valid American Express credit card, boarding pass with a confirmed reservation for same-day travel on any airline, and a government-issued ID. Delta Skymiles Reserve cardmembers are also able to visit the Centurion Lounge when flying on a same-day Delta-operated fight.
The Centurion Lounge guests can be sure of safety at the lounge as new health-and-safety practices are implemented across all the lounge network and include socially distanced seating, reduced capacity, increased cleaning frequency, requirements to wear a face covering when entering the lounge, served food instead of buffets, and more.