The content is accurate at the time of publication and is subject to change.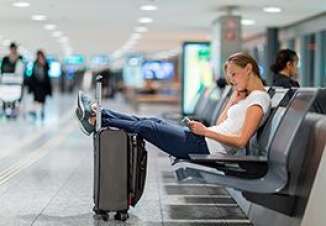 American Express is well known for their Centurion Lounge network, and now they are upping the ante with the purchase of LoungeBuddy, a digital platform designed to help people find and book time in airport lounges around the world. While they have not inked the deal as of yet, they have announced their intention to buy the platform. LoungeBuddy is expected to be part of the American Express family in April of this year.
This move may well help grow American Expresses lounge network, which currently includes 1,200 lounges. Right now certain credit cards provide people with entrée to their lounges, including the Centurion Card, the Platinum Card from American Express and the Business Platinum Card from American Express.
"The expansive airport lounge access we offer our premium Card Members through the Global Lounge Collection is among the most popular travel benefits we offer, which is why we continue to invest in enhancing the lounge access and services we provide," said Chris Cracchiolo, Senior Vice President, Global Loyalty and Benefits, American Express.
"With the acquisition of LoungeBuddy, we will be able to leverage its cutting-edge platform to develop additional ways to become an essential part of our Card Members' digital lives," he added.
Not a new partnership
This is not a new relationship for either American Express or LoungeBuddy. They have been working together ever since 2017. At that time American Express began using LoungeBuddy to give their Platinum and Centurion cardholders the opportunity to get information about the American Express Global Lounge Collection via their app.
Once the deal is complete LoungeBuddy be a subsidiary of American Express, but their founders will be leading the team. "As a company rooted in providing a highly premium experience using innovative technologies, we are excited to work even more closely with American Express to further deliver on this for their Card Members across the globe," said Zac Altman, Co-Founder, and CTO, LoungeBuddy.
Lounge Buddy
LoungeBuddy was founded in 2013 and was launched as an app and a website. It was designed to provide users with a way to access information about airport lounges and help them have the best time while getting in some R&R.
Both the app and website provided people with access to lounge ratings and reviews, as well as eligibility criteria, and global airport coverage via their lounge partners.
Individuals who want more information about LoungeBuddy can visit the website.