The content is accurate at the time of publication and is subject to change.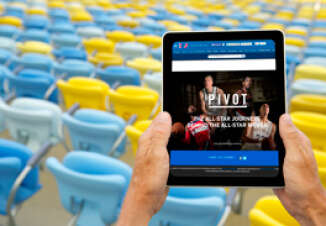 New Yorkers, American Express cardholders, and basketball fans are in luck. The NBA and American Express are once again teaming up to offer exclusive fan experiences and VIP access to games, including the playoffs, the NBA All-Star game, and the NBA Draft.
All-Star Events and Features
First up is American Express All-Star Live at Hammerstein Ballroom, a two-concert series on February 12 and 13. Fall Out Boy and Jon Bon Jovi are on the roster, performing live. Filmed footage will be shown during the national broadcast of NBA All-Star 2015 on cable's TNT network.
American Express PIVOT is a "digital video experience" that lets fans see signature moves of their favorite players up close. NBA star players John Wall, Anthony Davis, LaMarcus Aldridge and Mason Plumlee are the featured players on Home Court Advantage, American Express' behind-the-scenes basketball content channel. American Express PIVOT can be accessed on a mobile phone, tablet, or computer by going to AmexAllStar.com. Wrap-around cameral technology allows viewers to customize their own view of the action, and narrative films starring each player dig deeper into their personal stories on and off the basketball court.
American Express PIVOT will be shown on 103-inch screens during NBA All-Star 2015, and will be on view at the Barclays Center in Brooklyn through spring of 2015.
Mobile offers and eWallet
American Express cardmembers will be able to use their smartphones to buy concessions at the All-Star events at Barclays Center. They can download the Brooklyn eWallet within the Brooklyn Nets app, available for free through iTunes (for iPhones) and Google Play (for Android). Fans can store up to ten cards—either credit, debit, or charge cards—in the eWallet and pay for concessions at participating stands by scanning their phones.
Special offers from adidas, The Harman Store, City Crab, Duke's, and Big Daddy's will be available as well; cardholders can connect their American Express card with Facebook or enroll at amexoffers.com. Savings will appear as statement credits on members' monthly American Express bills, so there's no need to clip coupons or show a discount code.
The Centurion Suite and VIP entrance
Before the official NBA All-Star 2015 opening on March 2, 2015, American Express will give cardholders a sneak peek at The Centurion Suite at Barclays Center. An extension of The Centurion Lounge, American Express' luxury airport lounges, the Centurion Suite will provide American Express members with enhanced food and beverage options, elevated design and prime viewing, and electronics charging stations. It's the second of its kind, with the Staples Center in Los Angeles being the first Centurion Suite location.
An American Express VIP entrance on the north side of Barclays Center will give Platinum, Business Platinum, Centurion and Business Centurion cardholders a faster, exclusive entrance to the venue. These same cardholders will have free access to The Centurion Suite.