The content is accurate at the time of publication and is subject to change.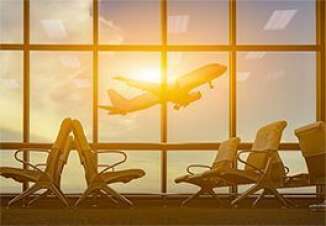 The overall satisfaction with North American airports has risen only one point since 2018.
The J.D. Power 2019 North America Airport Satisfaction Study℠ was carried out from October 2018 through September 2019 among airports in the United States. The study measures overall customer satisfaction with mega-, large-, and medium-size airports by looking at factors like terminal facilities, airport accessibility, baggage claim, security check, check-in/baggage check, and food, beverage and retail.
Here are top airports according to the Airport Satisfaction Study:
Best mega airport: Detroit Metropolitan Wayne Country Airport (DTW)
Best large airport: Portland International Airport (PDX)
Best medium airport: Indianapolis International Airport (IND)
The results and ranking of each airport in the study was largely influenced by the fact that many airports are undergoing some renovation. ""With major terminal construction projects now underway in Los Angeles, Boston, Chicago, Atlanta and many other airports, it is becoming impossible for travelers not to experience some form of disruption,"" said Michael Taylor, Travel Intelligence Lead at J.D. Power. ""While these projects are absolutely necessary to address surging demand, they are currently causing passenger delays and confusion.""
Here are other key findings of the North America Airport Satisfaction Study:
Overall traveler satisfaction does not improve. From possible 1,000 points, North American airports got 762 points this year, which is 1 point higher than the 2018's result.
New airport facilities contribute to increased passenger volume. Top airports can handle larger numbers of passengers while providing space for passengers, easy access to terminals, local food and beverage. Other airports have expansion projects.
Improved security allows to speed through airport security. Better TSA processing and adoption of biometric screening technologies allows to move passengers through security faster.