The content is accurate at the time of publication and is subject to change.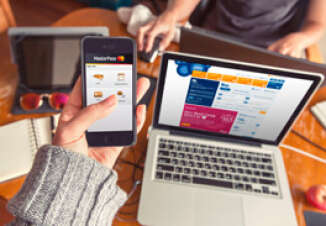 Booking airline tickets with JetBlue just got easier with the discount airline signing a deal with MasterCard which will let its customers pay for flights using MasterPass, its mobile wallet. People will be able to use the technology via the airlines website or mobile app starting later this year.
For JetBlue this relationship is a way to give customers more payment options. "We are always looking for new ways to offer customers a great experience at every step in their travel and that starts with booking your flight," said Mike Stromer, vice president digital loyalty and customer insights, JetBlue. "MasterPass adds a fast and simple way to complete a booking, and we look forward to adding it into our mobile app and online experience later this year."
How it works
With MasterPass people will be able to pay for their airline tickets, and any extras they want including extra bags, with a few clicks. They can use any mobile device or computer with the service. Since it is a mobile wallet it stores people's credit or debit card information along with their shipping information, so payments are made smoothly.
Late last year MasterCard announced that they would be upgrading security on MasterPass by embedding it with their Digital Enablement Service (MDES) in 2016. This addition would tokenize the system, so that with every purchase a token would be created. These tokens contain a one-time code which allows the payment to go through without transmitting financial or personal data to the terminal.
More from JetBlue and Mastercard
This news comes on the heels of a deal they brokered in October 2015 in which MasterCard became JetBlue's network partner for their portfolio of co-branded credit cards, which will be issued by Barclays. American Express has previously handled JetBlue's credit card portfolio, but that relationship ended last year.
The inclusion of MasterPass in JetBlue's payment options builds upon the airlines new relationship with MasterCard.
MasterCard is a technology-based company positioned in the global payments sector, working with consumers, financial institutions, businesses, merchants, and governments located around the world over 210 countries and territories.