The content is accurate at the time of publication and is subject to change.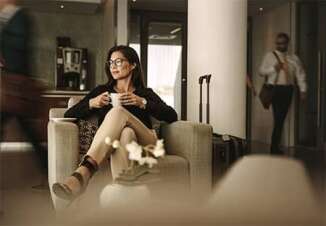 The first Capital One Lounge is now open at Dallas-Fort Worth (DFW) International Airport. Everyone can now enjoy the unique amenities and premium experience, and Capital One cardholders can enjoy complimentary or specially priced access to Capital One Lounges with their eligible credit cards.
The new Capital One Lounge at DFW is located in Terminal D by Gate 22. It's open daily from 7 a.m. to 7 p.m., but the hours will be expanded in the near future. This is not the only premium airport lounge from a credit card issuer in Terminal D. The Amex Centurion Lounge is located not far away - by Gate D12.
The Capital One Lounge offers amenities for relaxation, rejuvenation and exploration. Lounge guests are offered high-speed wi-fi, grab-and-go food, dining stations, fully stocked bars, coffee bars, quiet work zones, relaxation rooms, luggage lockers, cycling and yoga rooms, shower suites, family area, private nursing rooms, and multi-faith rooms. Every seat in the lounge has access to power charging spots, points with both USB and standard three-prong outlets.
To enter the lounge, you can either pay $65 per visit (kids under two are welcome for free) or have an eligible Capital One credit card to get free or discounted access.
The Capital One Venture X Rewards Credit Card cardholders can enjoy unlimited complimentary access. Plus, they can bring up to two guests per visit. Additional guests will have to pay special pricing of $45 per visit. The Capital One Venture Rewards Credit Card and Capital One Spark Miles for Business cardholders receive two free visits per year. Additional visits will cost $45 per visit. Guests of Venture and Spark Miles cardholders will be charged $45 per visit.
The Capital One Lounge at DFW is only the beginning. Capital One plans to open two more lounges at Denver International Airport and at Washington Dulles International Airport outside Washington, D.C. in 2022.