The content is accurate at the time of publication and is subject to change.
This content is not provided by Citi. Any opinions, analyses, reviews or recommendations expressed here are those of the author's alone, and have not been reviewed, approved or otherwise endorsed by the Citi.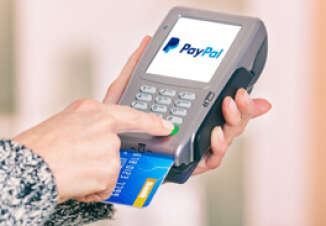 If you have ever wished you could easily use your Citi Card (Citi is a Credit-Land.com advertising partner) with PayPal, you are now in luck because you will be able to do just that starting in 2017. This upgrade is due to a strategic deal stuck by Citi and PayPal, letting Citi cardholders pay for merchandise via PayPal in a seamless fashion. This deal applies whether people are using PayPal online, via an app, or in real time in a brick-and-mortar store.
This is seen by Citi as being another milestone in their next generation banking portfolio. "In 2016, Citi has made tremendous strides in our mobile offerings to deliver next-gen solutions to enable banking in the palm of our customers' hands," said Ralph Andretta, Head of U.S. Branded Cards, Citi. "We're thrilled to continue that momentum through a new partnership with PayPal in which two leaders in payments are collaborating to further drive innovation and foster a more seamless payments experience."
Using PayPal in stores
With the signing of this deal, according to Citi, they become the first bank in the world to partner up with PayPal so that their cardholders can not only use PayPal online and via the app, but also use it in real time in stores. This is done by tokenizing Citi cardholders cards so they can be used across both the MasterCard and Visa portfolios across the U.S.
This relationship is seen as a way to give customers a better experience, and to expand each companies reach. "This agreement gives PayPal and Citi the ability to leverage each other's core assets to create better payment experiences that add value to the lives of consumers and merchants," said Gary Marino, Chief Commercial Officer at PayPal.
More next gen from Citi
The announcement of this partnership comes on the heels recent upgrades to Citi mobile platforms, which includes a new Citi Mobile App feature giving people the ability to easily and quickly dispute charges that have posted to their account right from the app.
Also, they can now track the delivery of their replacement card in real time, tracking its progress every step of the way. And last but not least they can actually lock down their account if they believe their card has been stolen or they've lost it.