The content is accurate at the time of publication and is subject to change.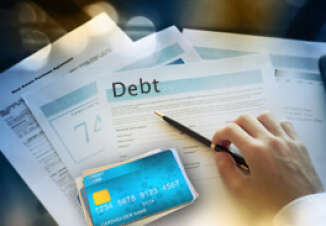 If you find yourself worried about credit card debt, and wishing for alternatives to credit cards you are not alone. So are other Americans, according to a new study by Affirm, Inc., a company founded by PayPal co-founder Max Levchin. Finding that 65% of respondents fear debt, while for 32% those fears are fueled by not being able to gauge how long it will take them to pay it down or off. And they are now open to alternatives to credit cards offering transparency and affordability.
The Debt & Credit study was designed to take a close look at consumer's relationships with credit and debt, finding that fears around debt influence how people spend and how they feel about their purchases with 46% of respondents saying that they have enjoyed something they've bought less because they carried a balance. "This research illustrates just how much of an impact uncertainty can have on consumers and their buying decisions," said Affirm Insights & Credit Analyst Ethan Monreal-Jackson. "Consumers are hungry for transparency and credit card alternatives that would allow them to responsibly spend."
Doing the two step: Planning out spending and worrying about debt
When is the right time to make a purchase? Does it fit into your budget? If you've asked yourself these questions you are in good company, with 93% of people planning out their spending one of three ways – weekly, bi-monthly or monthly.
Here millennials (aged 22-34) are more in sync with planning their spending out on a weekly basis, with 42% indicating that they are doing just that. Of all the generations just 5% of people said they don't plan out their spending at all.
Credit card balances have been known to keep some consumers up at night and this study found that 72% of respondents were worried about how much their balances would end up costing them in the long run – with overall cost including interest. And for 46% this resulted in feeling far less pleasure about their purchases than they normally would have.
Credit card alternatives
What if there was another way to finance purchases besides credit cards? If so, 87% would love to hear about a simple way for them to be able to pay off large purchases over time which did not mean using a credit card.
With 68% saying that having a clear idea of how much they would owe with interest and when they would be done paying it off was very appealing.
During the study Affirm, Inc., spoke with 1,089 Americans, falling in the 22 and 44 age range.