The content is accurate at the time of publication and is subject to change.
This content is not provided by Citi. Any opinions, analyses, reviews or recommendations expressed here are those of the author's alone, and have not been reviewed, approved or otherwise endorsed by the Citi.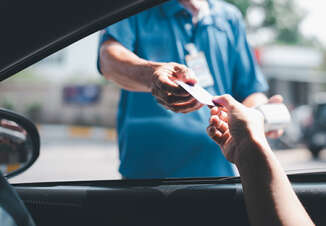 While gas prices are steadily dragging down, they are still high. Fortunately, there are ways to save on gas, and a credit card with rewards is the most popular one.
The national average price for regular gas is at $4.41 a gallon (as of 7/22/22 according to the AAA Gas Prices website) that means you can save at least 4 cents per gallon with a credit card that gives a standard 1% cash back. And what if your card would give you 5% cash back?
Having a credit card that would give you extra cash back on gas purchases can help you reduce the impact of high fuel prices on your budget. While cards from gas stations themselves remain rather popular, they tend not to offer robust rewards. Gas station credit cards typically save 5 to 10 cents per gallon of gas and tend to have high interest rates, too.
As for regular credit cards with rewards, they are not as popular among drivers, unless they offer extra cash back on gas purchases. So, we looked around and compiled a short list of credit cards that offer 5% cash back on gas purchases.
Here's a short list of best credit cards for any gas station:
- Chase Freedom Flex: the gas stations category is a 5% cash back bonus category this quarter (July - September). To earn 5% cash back, you need to activate it no later than September 14, 2022. Please note that there is a cap to the cash back you can earn: you can earn up to $75 cash back on combined purchases in this quarter's bonus categories (other categories are car rental agencies, movie theaters, select live entertainment). When you reach the cap, you will continue earning 1% in those categories.
- Sam's Club® Mastercard®: the card allows earning 5% back on gas but only on the first $6,000 per year. When you reach the limit, you will continue earning 1% back.
- Platinum Rewards Visa Signature® Card: this card earns 5x points on gas paid at the pump and EV charging stations. There are no caps or limits to the points you can earn on gas purchases.
As you can see, most credit cards that offer extra rewards for gas purchases have a cap to the amount of cash back you can earn at the high rewards rate. More than that, some offers are limited in time. So, it would be wise to make a calculation first just to be sure the card will be worth the effort and only then apply for a new credit card.