The content is accurate at the time of publication and is subject to change.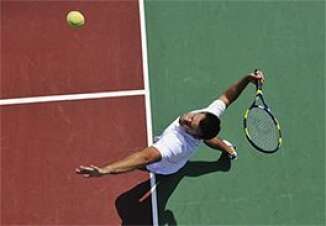 The United States Tennis Association and American Express have been partnering for more than a quarter of a century for the U.S. Open, and they are partnering again this year. What does this mean for cardholders? It means that they can take advantage of a variety of benefits and special experiences, while at the U.S. Open this year. That's not all when they spend $100 at the U.S. Open they get $20 back when paying digitally.
Cardholders also get access to the US Open American Express Fan Experience. What is a fan experience? It can be anything from playing an interactive game of Pong, using digital spray paint cans to create art to creating music with "Rally Remix," which lets them use tennis balls to create beats and rhythms. They can also get into the American Express Lounge and Centurion Suite when it is time for them to chill out for a while and refuel.
"We have a lot of exciting things happening at the US Open this year, as we know our Card Members are passionate about tennis. We hope to fuel their passion with our unique benefits, whether they're listening to live commentary of the matches with our Amex earpiece radios, getting their favorite pair of sneakers cleaned in the Card Member Lounge or enjoying a cocktail in the Centurion Suite," said Bess Spaeth, Senior Vice President, Global Brand Media and Experiences, American Express.
Get $20 back at the U.S. Open and more
While at the U.S. Open shopping is made easy for cardholders and they can take advantage of some extras when they pay digitally as well. They can get a onetime $20 credit when they spend at least $100 when paying with their contactless-enabled American Express Credit Card or digital wallet.
They can also pick up earpiece radios which offer them live-commentary during matches. The commentary is available via ESPN's broadcast. Cardholders can also check their bag for free at the East and South gates once they get to the venue. Last but not least they can also pick up some exclusive Polo Ralph Lauren customized merchandise.
Small businesses getting in on the action too
American Express is also providing small business owners with an opportunity to network at the U.S. Open by providing over 100 tickets and hospitality packages to NYC based small business owners. With this initiative, they can host someone at the event, whether that is a big client they want to thank or a prospective client they want to show a good time. While there they can also network with other small business owners.