The content is accurate at the time of publication and is subject to change.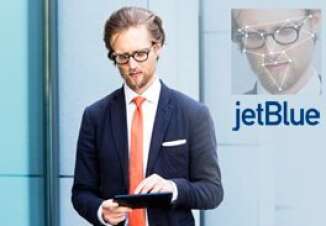 JetBlue is partnering up with U.S. Customs and Border Protection (CBP) and SITA to begin testing biometrics and facial recognition technology to streamline boarding for travelers. They will use this technology on flights going from Boston's Logan International Airport to Aruba's Queen Beatrix International Airport starting this month.
JetBlue is slated to be the first airline to work with CBP to integrate this technology into their boarding process. It is a totally paperless self-boarding process, which people can take part in without having to register or enroll beforehand.
This partnership is seen by JetBlue as a way to make travel smoother for their customers. "We hope to learn how we can further reduce friction points in the airport experience, with the boarding process being one of the hardest to solve," said Joanna Geraghty, executive vice president customer experience, JetBlue.
"Self-boarding eliminates boarding pass scanning and manual passport checks. Just look into the camera and you're on your way," she said.
How it works
People who want to take part in this technology-driven boarding process can easily do so when they get to the airport. They simply go up to the camera and take a fast picture. The camera station will then connect with CBP in order to match up the picture it just took with the individual's passport, immigration or visa photo. It will confirm their identity while also checking the database for their travel details.
When complete, the system will let the travelers know that they have been cleared for takeoff via the screen at the station. At that point, they can head over to the jet bridge to get on their flight.
During this process, crewmembers will be on hand to help travelers, and they will have their own iPad minis so they can keep track of the process while also engaging with customers.
More upgrades
This test of the biometrics and facial recognition system comes on the heels of additional upgrades JetBlue recently launched, including the roll out of their self-service lobbies. These new interactive kiosks let travelers quickly take care of key tasks that they typically would go to airline personnel to handle, including letting travelers tag and drop off their own bags.
The "line-less" lobbies were initially rolled out in New York at JFK airport last year, where it was well received by travelers. Based upon this response, they have launched them in Boston, Fort Lauderdale-Hollywood, San Juan, Newark and Atlanta – and more airports will have the kiosks later in 2017.