The content is accurate at the time of publication and is subject to change.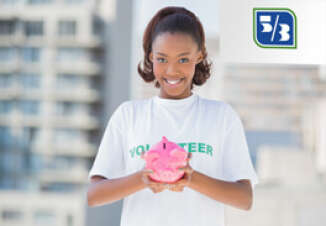 Fifth Third Bank has raised $6 million for Stand Up To Cancer (SU2C), partially funded by donations made through their credit and debit cards, which let people contribute to the campaign using rewards points. They also raised money with a social media campaign using the #howifight hashtag, as well as SU2C Nights taking place at Minor League ballparks.
Since launching the SU2C credit card and debit cards in 2013, they have run several campaigns to raise money to fight cancer by donating to SU2C's innovative research programs. Reaching the $6 million dollar mark was an exciting point for the bank.
"We are thrilled to reach this donation milestone," said Maria Veltre, executive vice president and chief marketing officer for Fifth Third Bancorp. "We know with Stand Up To Cancer's collaborative research approach, these dollars work hard to find better treatment options."
SU2C is a 501(c)(3) charitable organization, and since its inception they have funded 162 clinical trials, in which 6,000 people took part. The organization is dedicated to raising money to speed up innovative cancer research and facilitating scientific collaboration so that patients get quick access to new therapies to patients.
How Fifth Third Bank fight cancer
The bank started the #howifight campaign in July, along with having over a dozen "SU2C nights" taking place at Minor League Ballparks. While the campaign was running they asked people who had or have cancer to share their stories and how they fight cancer via social media using the #howifight hashtag. During that time, 35,000 people shared their stories on everything from Twitter and Facebook to Instagram and Vine. These stories can be accessed via the Fifth Third Bank's website.
"We are so grateful to Fifth Third Bank for their continued support and are thrilled to reach this fundraising milestone through its campaign," said Rusty Robertson, SU2C co-founder. "The generosity of Fifth Third and its customers will help SU2C continue supporting innovative research and save more lives now."
The Cancer fighting credit card
With The SU2C credit cards people can donate their rewards points to the SU2C campaign, or redeem them for cash and gift cards, as well as other rewards. They earn one Real Life Rewards point for every $1 spent on any kind of purchase.
The SU2C MasterCard also comes with Cellular Phone Protection, protecting cardholders if their cellphone is damaged or stolen. This perk includes the first two cellphone lines on the cardholders' bill. They also offer Identity Theft Resolution Services, which includes replacing a lost or stolen card and credit bureau notification, credit card replacement, and more.