The content is accurate at the time of publication and is subject to change.
This content is not provided by Citi. Any opinions, analyses, reviews or recommendations expressed here are those of the author's alone, and have not been reviewed, approved or otherwise endorsed by the Citi.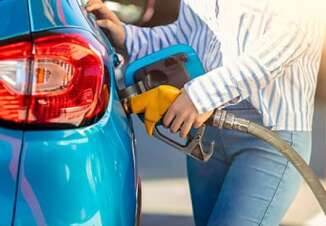 Gas prices are soaring and, according to the American Automobile Association (AAA), the national average gas price has already passed its peak of $4.144 per gallon set in 2008 and continued rising to hit $4.325 and even $5.74 in California as of 3/14/22.
While it may look like Russia's invasion of Ukraine in late February caused the spike, there are two other factors that also contributed to the gas prices increase. First, we see an increase in demand as people start traveling more these post-pandemic days. And second, there are seasonal price fluctuations. Historically, gas prices tend to gradually rise in the spring and peak in late summer when people drive more frequently.
While you can't control gas prices, there are ways to save money at the gas pump. There are various pieces of money saving advice like using gas trackers to find the cheapest gasoline in your local area, paying for gas with cash, increasing fuel efficiency, and buying discounted gas cards. But many people turn to credit cards and fuel rewards programs to get money back or save money with each fill-up by earning points or getting an instant discount.
Here are some credit cards that earn gas rewards and may help you maximize your savings at the pump:
- If you are not much of a traveler and just plan some travel this spring and summer, check out the Discover it® Cash Back card and the Citi Custom Cash℠ Card. The first will allow you to earn 5% cash back bonus at gas stations and Target from April 1 through June 30, 2022, on up to $1,500 in purchases (when you activate). And the second allows earning 5% cash back on purchases in your top eligible spend category (meaning it can be gas purchases) each billing cycle (without any activation) on up to the first $500 spent. Both cards will allow you to continue earning 1% in categories after you reach the limit.
- Those who travel a lot may like the Citi Premier® Card that earns 3 points at gas stations, restaurants, supermarkets, hotels, and on air travel.
- If you have a club membership, like Costco, Sam's Club or Walmart Plus membership, you can get the retailer's co-branded credit card. Club members get discounted gas prices, so you will save even more with their co-branded credit card. For example, Costco members can get the Costco Anywhere Visa® Card by Citi to earn additional 4% cash back on eligible gas for the first $7,000 per year and then 1% thereafter.
If you are not planning to use public transport or ride a bicycle, and if you are not planning to buy an electric vehicle anytime soon, having one of these credit cards can be quite advantageous. Plus, these cards come with other perks you may like.