The content is accurate at the time of publication and is subject to change.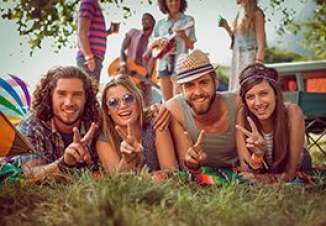 American Express is sponsoring the Coachella Valley Music & Arts Festival one of the most well-known music festival in the world. This year they have sweetened the pot for cardholders when it comes to benefits for this event. What is it? Now American Express cardholders can earn a $20 statement credit after spending $100 at the festival. While most American Express credit cards include this perk people should check because there are some exceptions.
This benefit was upgraded from last year when it was just a $10 statement credit with a $10 spend. In essence, they have doubled the discount and they have also increased the spend, but as anyone who has been to Coachella can tell you that spending $100 there is relatively easy to do.
Getting your $20
Cardholders who are heading to Coachella and want to take advantage of this benefit can get started by simply downloading the Coachella app. Once that is done they activate their wristband, giving them to a variety of special benefits including the $20 statement credit.
Once the app is downloaded and the wristband is activated there is one more step. They click on the Amex button, which is located in the apps menu. Then they add their American Express credit card number into the system and at that point, they are good to go.
Additional benefits
By using the app and the wristband cardholders can also get into the Amex Card Member Lounge, where they can chill out in a variety of artist-inspired green rooms. Cardholders can bring two friends with them to the lounge. Just remember everyone must be 21 or older to get into the lounge.
Cardholders who are looking to get a Birdseye view of the festival can get one for free because they get a free Ferris Wheel Ride included in their perk pack. How does that happen? It's simple they just tap their wristband when they get to the ride.
There is plenty of swag to buy at Coachella and cardholders can get it monogrammed with embroidery for free. This offer is good for one item at the Lot, Stock, and Barrel embroidery station located in the Coachella Boutique, as well as at the VIP by the Main Merch Tent on the Terrace. To get this offer they tap their wristband.
In order to get more information, people can visit the website.