The content is accurate at the time of publication and is subject to change.
This content is not provided by Citi. Any opinions, analyses, reviews or recommendations expressed here are those of the author's alone, and have not been reviewed, approved or otherwise endorsed by the Citi.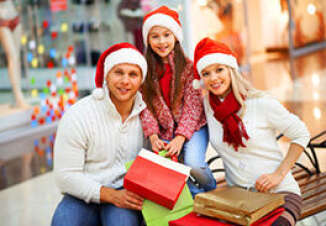 Heading to the stores to buy presents for the holidays is a time-honored tradition, and for 75% of people it's a springboard to holiday cheer and happy memories, according to the new Citi Retail Services Study. (Citi is a Credit-Land.com advertising partner).
While many people shop online these days, 58% say that going the cyber route sucks some of the fun and excitement out of the holiday equation, so they will be heading out to brick-and-mortar retailers.
"Despite all the online and mobile shopping options available today, when it comes to the busy holiday shopping period, Americans are still making their way to the stores for in-person customer service, deals, and to get in the holiday spirit," said Leslie McNamara, Managing Director, Business and Market Development at Citi Retail Services. "We see retailers across the country embracing this tradition and investing in exceptional in-store experiences."
Hitting the stores for some cheer
If you're planning on buying at least one gift in the store this season you are not alone, 9 out of 10 people will be doing the same, with just over half (52%) of gifts being in-store buys.
Why? Well it's not just the gift buying. For 79%, it's the experience of searching for and ultimately finding the perfect gift for friends and family. When it comes to family traditions heading to the store together to get in some holiday shopping is more in style than singing carols or holiday songs.
Nostalgia, nostalgia, nostalgia
Holiday shopping nostalgia is a big factor for Americans, with 65% saying that their best holiday memories are all about going on shopping trips with their friends and family.
What will they be shopping for this season to keep the nostalgia quota up? Certain items are trending, with three taking the top spots: decorations (66%), holiday ambiance (44%) and holiday music (34%).
The Citi Retail Services Study was carried out from October 25 to 28, 2016 by Wakefield Research. They interviewed 1,000 adults over the age of 18.