The content is accurate at the time of publication and is subject to change.
This content is not provided by Citi. Any opinions, analyses, reviews or recommendations expressed here are those of the author's alone, and have not been reviewed, approved or otherwise endorsed by the Citi.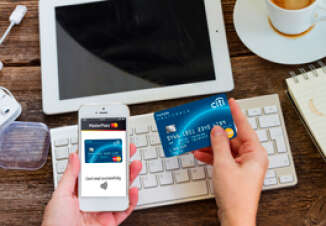 Until now digital tokens were only available to major credit card issuers, but MasterCard has changed all that, announcing that they will be making this digital payment card security safeguard available to store-banded cards in the coming months.
This new development is the end result of new partnerships with some of the biggest private label card issuers, including Synchrony Financial and Citi Retail Services. (Citi is a Credit-Land.com advertising partner). Right now MasterCard is the only network offering this service to private label cards.
For consumers it means that they can now make digital payments using their digital wallets, whether using Apple Pay, Android Pay or another digital wallet. Some of the initial retailers coming on board for this new service are JC Penneys, Kohls and BJ's Wholesale Club.
Powered by MasterCard
The MasterCard Digital Enablement Service (MDES) makes this initiative possible, and powers all the tokenization options offered by the network. With more and more Americans using digital wallets, this new initiative is seen by MasterCard as being a way to deliver their customers more flexibility when it comes to making payments, while also providing enhanced security because no payment card data is actually passed to merchants during transactions.
"We're seeing significant momentum and innovation around digital wallets, and a key focus for MasterCard is that consumers can leverage these new offerings safely and securely. MDES was developed to ensure that any connected device can be used to make purchases, and deliver the simplicity, security and convenience people have become accustomed to when using a MasterCard account of their choice," said Ed McLaughlin, chief emerging payments officer, MasterCard.
Tokens up security
MDES works with contactless mobile payment devices at stores, but it can also be used with apps. Tokens offer an additional layer of security to consumers by working with EMV technology or chips.
When users connect with the payment system, it generates a one-time token during the sale, which lets the payment be taken without transmitting credit card data. Each time a transaction takes place whether in real time or via an app a new token is generated. MDES works with credit, debit, prepaid, small business cards, co-branded cards, and now private label cards.
This technology was originally released in 2013, and since then it has been used by a wide range of digital wallet systems.