The content is accurate at the time of publication and is subject to change.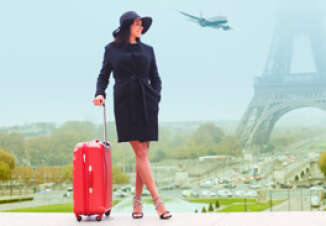 According to new data released by Airlines for America (A4A), an industry trade organization for airlines in the U.S., 145 million passengers are expected to hit the skies from March 1 to April 30, an average of about 2.4 million per day.
This represents a 4% increase from last year, when 140 million passengers traveled for spring break. This upswing means that 110,000 seats per day are being added by U.S. airlines across their routes, because trends suggest that 89,000 more passengers will be flying on U.S. carriers over spring break.
According to A4A this upswing airline travel is due to a convergence of a variety of aspects, including low airfares.
"While historically low fares, reliable operations and several consecutive years of reinvestment in the product are the primary factors underlying this growth, a boost in U.S. employment and personal incomes and the highest-ever level of household net worth are also fueling the strong demand for air travel," said A4A Vice President and Chief Economist John Heimlich.
Competition taking off too
With low airfares making travel financially easier for travelers, airlines are also taking competition to another level by adding in more nonstop routes, along with increasing the number of seats they schedule going to and from U.S. airports, no matter what their size.
How much have these routes grown? Overall they added 37 nonstop routes in 2016, opening up 198 new ones, while doing away with 161 older ones. While in 2017 they opened up 151 new routes, and eliminated 134 routes, growing the network by 17 routes so far.
The number of overall seats grew 4.1% between 2016 and 2017, slightly up from the period between 2015 and 2016 when growth was at 3.9%
Financial upswing means new aircraft
With air travel trending and revenues up, airlines are paying down their debt, which means that some now have investment-grade creditworthiness. And with paying off or down debt they have also started investing in their fleets, with carriers taking deliver of over 350 new aircraft in 2016. This year they are expected to take delivery on 337 new aircraft.