The content is accurate at the time of publication and is subject to change.
This content is not provided by Citi. Any opinions, analyses, reviews or recommendations expressed here are those of the author's alone, and have not been reviewed, approved or otherwise endorsed by the Citi.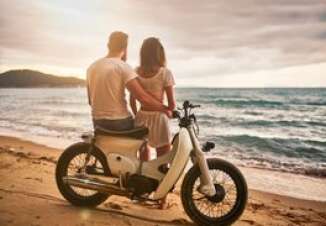 Citi, a Credit-Land.com advertising partner, Retail Services has inked a deal with American Honda Motor Corp, making the way for a private label credit card program. It will specifically be designed for Honda's Powersports dealer network based in the U.S., offering people looking to gear up for a motorcycle or scooter ride with financing options.
They see this new product as being a way to make power sports vehicles more accessible for their customers. "This new agreement with Citi Retail Services will help Honda dealers offer value to our customers with a program for financing Honda's motorcycles, scooters, ATVs, Side-by-Sides, parts, and accessories," said Chuck Boderman, vice president of American Honda's Motorcycle Division.
"We look forward to working with Citi Retail Services to offer value and convenience of the Honda Card to our dealers and satisfying our customers," he said.
Not the first deal with Citi
But this is not the first time Honda and Citi have partnered up. This deal comes on the heels of signing another deal with Honda Power Equipment in April 2017, paving the way for creating new private label financing options for customers looking to buy Honda Power Equipment.
The deal also includes offering promotions. Honda's power equipment division includes half a dozen product lines including generators, tillers, pumps, trimmers, lawn mowers and snow blowers.
Citi and Powersports
The new partnership with American Honda Motor Corp adds to Citi Retail Services' portfolio of power sports and equipment retailers. "Following our recent agreement with Honda Power Equipment, we are excited to expand our partnership to offer industry-leading financing options to customers of American Honda Motor Corp," said Craig Vallorano, head of Citi Retail Services.
"As we continue to build Citi Retail Service's portfolio in the power sports and equipment market, we're proud to work together with strong and respected brands like Honda," he said.
Citi offers both businesses and consumers a wide range of financial products and services, like corporate and investment banking, consumer banking and credit, securities brokerage, wealth management and transaction services. They provide services in over 160 countries as well as jurisdictions.