The content is accurate at the time of publication and is subject to change.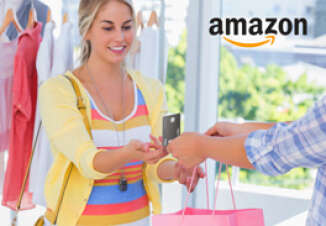 Amazon.com, Inc. and Chase have joined together to roll out the new Amazon Prime Rewards Visa Signature Card offering 5% back on all Amazon.com purchases. What about other purchases? As an added benefit people will earn 2% back when filling up at gas stations, eating out at restaurants and buying merchandise at drugstores. All other purchases earn 1% back. This new card is designed just for eligible Prime members.
There is no cap on the amount of rewards people can earn with this new card. In addition, rewards never expire and there is no annual fee. The new Amazon Prime Rewards Visa Signature Card also offers a new design, instead of being made out of plastic it is made out of metal.
More benefits
When getting this card people will also get some additional benefits. There are no foreign transaction fees for cardholders to wrangle with when traveling. When it comes to protection against thieves and hackers, the card comes with zero fraud liability.
For travelers there are some key perks included with the card. They get travel protections along with purchase protection. This issuer has also included 24/7 concierge service, available through Visa Signature, giving people some help while traveling or making plans.
For more information about the benefits people can visit the website and to get more information about Amazon Prime they can check out that website.
Upgrades for some Signature Cardholders
Individuals who already have an Amazon Rewards Visa Signature may be wondering if they will get upgraded. The answer is yes – if they have an eligible Prime membership. If so they will be upgraded and be sent the new card.
This card is seen as a way for consumers to earn more rewards when shopping. "Hundreds of millions of people shop at Amazon.com and there is no better way to earn rewards for their purchases than Chase's new Amazon Prime Rewards Visa Signature Card," said Kevin Watters, CEO of Chase Card Services. "We are thrilled to be working with Amazon to offer even more value to our cardmembers."