The content is accurate at the time of publication and is subject to change.
This content is not provided by Citi. Any opinions, analyses, reviews or recommendations expressed here are those of the author's alone, and have not been reviewed, approved or otherwise endorsed by the Citi.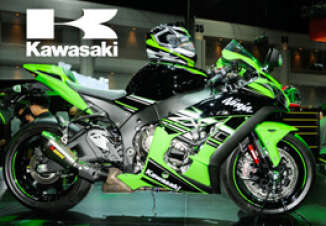 Vroom! Citi, a Credit-Land.com advertising partner, Retail Services has signed a long term deal with Kawasaki paving the way for the development of a private label credit card program designed for consumers in the United States.
The Kawasaki credit card program will roll out on February 1, with interested customers being able to apply for this payment card directly through authorized Kawasaki dealerships. This move is seen as a way for the motorcycle dealership to give their clientele more options when it comes to financing their purchases.
"Kawasaki is always striving to offer our customers the best product on the market," said Bill Jenkins, senior vice president, sales operations at Kawasaki Motors Corp., U.S.A. "This new Citi Retail Services agreement is a great way to provide more consumer finance options for current and future Kawasaki customers to be able to enjoy our products. We look forward to working with Citi Retail Services and introducing them to Kawasaki's strong dealer network."
With this new agreement in place, people who buy Kawasaki vehicles, which include motorcycles, ATVs, side x side vehicles and Jet Ski watercraft, as well as accessories and apparel, will have access to more flexible financing options. Dealers are taking credit card applications through their stores.
Powersports and more from Citi
The addition of Kawasaki is seen as a boon for the Citi portfolio. "This new agreement with Kawasaki is a strong addition to our powersports and equipment platform," said Craig Vallorano, head of Citi Retail Services. "We are excited to work with Kawasaki, and we look forward to furthering our leadership in the dealer network distribution market space."
This deal comes on the heels of an agreement Citi signed with Toro, a turf, landscape, rental and construction equipment company, in which they issuer will run a revolving credit card program for the retailer. With this deal they will not only service Toro banded cards, but Exmark OEM-branded cards as well, both of which are available to customers with in the United States.
Kawasaki Motors Corp., U.S.A manufactures and sells Kawasaki motorcycles, side x sides, Jet Ski watercraft and ATVS, via independent retailers, and 7,700 retailers, which specialize in general purpose engines.