The content is accurate at the time of publication and is subject to change.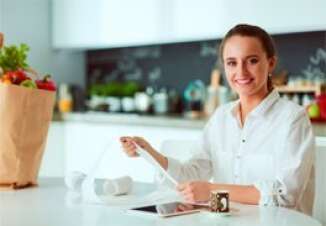 American Express is launching Pay It Plan It, a new feature letting cardholders decide whether they want to pay for a purchase right away so it does not get rolled into their balance, or set up a payment plan if the purchase is over $100. Payment options range from 3 months to 24 months, and both options are part of the American Express mobile app. When opting to make payments there is a fee, but cardholders do not pay interest.
This new feature is designed to provide people with more financing options. "We are thrilled to provide American Express Card Members new, flexible ways to pay for their purchases," said Kartik Mani, head of Global Consumer Lending at American Express.
"Pay It was inspired by Card Members who prefer making multiple payments throughout the month. Now we've made it even easier to do this in our app. For larger purchases, we developed Plan It to give Card Members another way to pay over time with a "no surprises" plan that offers transparent, monthly payments for a fixed fee," says Mani.
The Pay It details
To get started using Pay It Plan It people access their American Express Mobile App, and when they do they will find the Pay It Plan It icons located next to any eligible purchases. People can also get into the system via the American Express website.
If cardholders want to pay for their purchase right away they can do so, and bring their balance down. When opting to pay off a purchase totaling more than $100 over time they click on the Plan It option, which will let them choose how long they want to take to pay it off. The system will also tell them how much the fee is for using this option.
When choosing to the Plan It option the amount they are paying off is added to their minimum amount. They keep paying their bill as usual at the end of their cycle, whether that is the minimum amount due or the whole amount. And they continue to earn their usual rewards when using this option.
Eligible cards
American Express has begun rolling out this new feature, which will be available on U.S. consumer credit and co-branded cards issued prior to June 1, 2017. Those cards issued after that date will find the feature integrated into their card early next year.
The cards that are eligible for Plan It Pay It options include:
Amex EveryDay Credit Card
Amex EveryDay Preferred Credit Card
Blue from American Express Card
Blue Cash Card from American Express
Blue Cash Everyday Card from American Express
Blue Cash Preferred Card from American Express
Blue Sky from American Express Card
Delta Reserve Credit Card from American Express
Delta SkyMiles Credit Card
Gold Delta SkyMiles Credit Card
Hilton Honors Card from American Express
Hilton Honors Surpass Card from American Express
Platinum Delta SkyMiles Credit Card
Plenti Credit Card from Amex
Starwood Preferred Guest Credit Card from American Express
The Mercedes-Benz Credit Card from American Express
To get more information, people can check out the website.